Here's  Mido Farid's game for this week ….
Good Match
SET–UP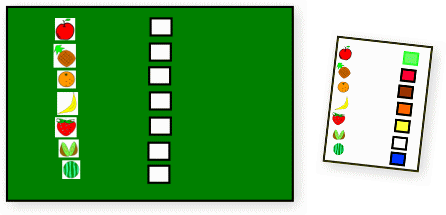 1. Put fruit flashcards and a series of boxes on the board.
2 In the teacher's notebook draw the same but fill in each box with a colour.  This is your key. Don't show the kids.
3. Divide the class into two teams.
PLAY
1. Choose a player to go first.
2. Ask them to draw a line on the board that connects one picture on the left with one box on the right.  They, of course, don't yet know whether this will be correct or not. It gets them used to taking risks and guessing.
3. Let's say the child connects the apple to the third square. You check your KEY and see that the third square is brown.
4. Place a brown flashcard over that square on the board.
5. Ask the student, "Is the apple brown?" Of course it isn't. Erase the line connecting the apple and the
brown square, and take away the brown flashcard from the square.
6. Call another student up. That student (remembering the 3rd square is brown) connects it with the pineapple. This is a match. Give this player's team a point.
7. Keep playing until all the pictures on the left have been matched with the squares on the right.
USES
1.      To review any vocabulary.
2.      To help children to see the relationship between vocabulary.
3. Logic skills
Once the kids have got used to this simple version with just colours & fruits, you can make the right squares to be adjectives and use any of the vocab (animals, fruits etc.) from the Guessing Game lesson!
For VIP Members there is also Mido's Amazing New Book of Games.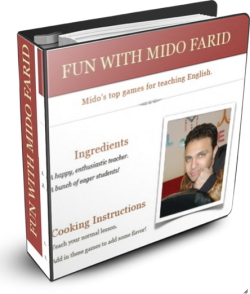 We're currently doing the second version (and maybe even a second volume!) so any comments are much appreciated!