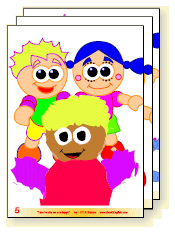 Hello,
I'm still not happy with the pictures for the "Whose is it?" song.
So my question of the day is…
How would *you* illustrate  … mine / yours / his / hers / ours / theirs/ everybody's / I don't know & "Whose is it?"
The criteria are ….
It is has to be easily recognizable – and distinguishable between each one – for kids sat right at the back of a crowded classroom.

The meaning has to be *really* obvious – for teachers who don't speak their students language and hence can't explain the meaning!
We thought about people holding things etc.  but it is difficult to see at the back when there are many characters,  and distinguishing between mine/yours/his/hers is really tough!
Also any characters/objects you'd like to see included?
I'd love your input, and the more we get the faster I can get working on vol. 13!
Thanks in advance,
Be genki,
Richard