This week Mido jumps up a bit to do some funky grammar practice.
First let's illustrate it with "Can …." then we can level it up a bit! 🙂
1. On the board draw a 3 x3 gird with I, You, He/She on the side, + – ? on the top.  Then put several different verb (e.g. here or here or here or "play" or "speak")  flashcards that you want to review in each space  e.g.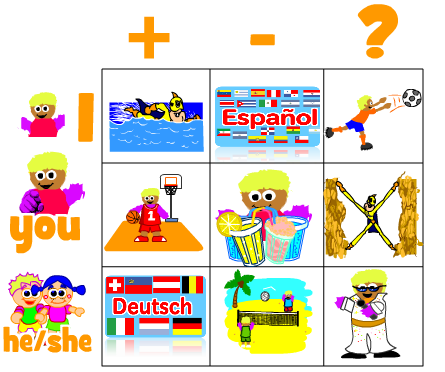 2.  The first team gets to make a sentence using the structures on the board e.g. if they say "You can't drink" they get to put a cross in the middle square!  ( A very sensible first move 🙂 )
Ninja Tip:  Teach the "It's not good" song to teach the "not" or "can't" forms!
3.  Then the next team gets to make a sentence and put a circle there e.g. if they say "Can she sing?" they get to put a circle on the bottom right square!
4.  First team to make Tic-Tac-Toe e.g. three crosses or three circles in a row wins!
You get the idea?
Now, just as we learnt from War Games, Tic Tac Toe always ends in a draw.
So ….. now we do it with a 5 x 5 grid!
And to make it tougher we can add in nouns ( or  just about any theme from the curriculum!)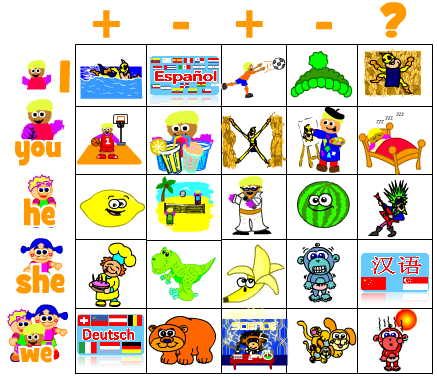 So this time, if you've done for example the Do you have any pets? theme, they have to also think about the verb to use e.g. She has a banana. etc.
If you want to be even tougher, add in things like What do you want to be? and the kids have to come up with things like "Does he want to be a rockstar?" or How are you? and the kids have to say things like "She isn't cold"
Ninja Tip:  If a grammar piece that you haven't covered yet crops up, e.g. "You don't want to be an artist" you get the kids to take their best guess and then, right here and now, teach the extra parts they need.  This is  the *very* best possible time to teach new grammar because the kids have a real need for it, *right now*, to win the game – and this motivation is all it takes! 🙂
Pretty cool, eh?
What's even cooler is that if you combine many themes that you've done before, the kids will naturally start combining themes to say things like "He doesn't want to be a watermelon!" etc.  which is also very cool – and very funny when it happens!
So, what favourite combinations will you use with this theme?  Do let us know in the comments!
Be genki,
Richard