If you are planning on starting your own school (congratulations!) then a web presence is essential.
Word of mouth is vital, but parents will also want to check you out online before they contact you.
And in this day and age a website probably isn't the way to do it.
Believe me they are expensive, take a lot of work and worst of all need constant, constant updating.
Personally I'd rather you spend the time helping your kids rather than fiddling around with websites. 🙂
Luckily if you are based in any country other than China, then there is a much easier way:
Simply set up a Facebook "Page" about your school.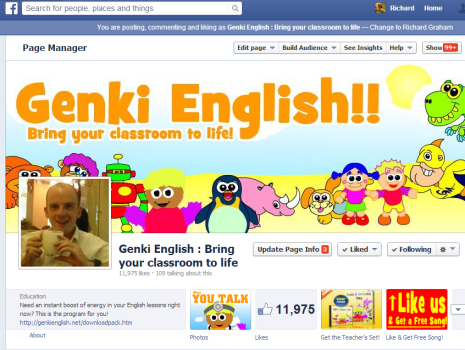 It's like a website, but cheaper, easier and better! 🙂
( If you're not on Facebook yet, your competitors (plus nearly a billion customers) are!)
Setting up a page is free, easy to do and best of all the, interface will also appear in the parents' native language.
What things to put up there?
– Photos / videos of classes  (put a clause in your contract that allows you to use photos of kids in classes, you'll need it for everything from making pamphlets to web marketing, to when the newspapers come and report on your amazing lessons!)
– Tips & Hints for parents to help the kids at home.
– Tips & Tricks for parents to improve their own English.
– Information about upcoming events, shows or parents' evenings.
Also make sure you add your phone number into the "About" box at the top.
This shouldn't take more than a couple of hours work and believe me it will save you so much time compared with doing a website.
Of course Facebook won't be around forever and in two years time I'll probably recommend a better way.
But for now, Facebook is where it's at.
And of course, be sure to Like Genki English whilst your are on there!
https://www.facebook.com/GenkiEnglish
Be genki,
Richard
P.S.  Top Bonus Tip: Invest in at least one professional photograph of yourself for your profile picture. You'll also find a million and one other uses for it!
P.P.S.  More tips for VIP Members on how to beat your competition on Facebook here.