Whilst those of us in the Southern Hemisphere are enjoying the Summer sunshine (sorry!) – the rest of the world seems to be having crazy weather.
But as much as adults might hate the snow, kids absolutely love it!  Plus with the Winter Olympics on right now, my top tip for the week is to do the Winter Sports lesson.  I tell you, it's a killer lesson and the kids love it, especially the non-sporty ones who like the snowball fighting at the end! 🙂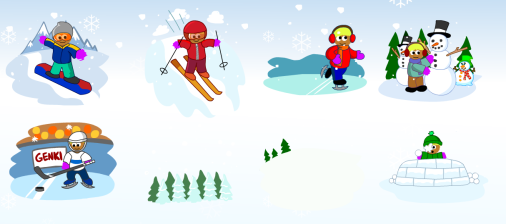 Do you let us know what you think of it in the comments!
Be genki,
Richard
P.S. The mini card games work great with this lesson, or try the Gokiburi Game, where the kids "evolve" into different sports rather than animals!
P.P.S.  Two great themes to go after this lesson are the ever popular Opera style Baby Monkey's Winter Clothes and of course Let's build a snowman!
P.P.P.S.  Check out the teachers in Russia doing this song! 🙂