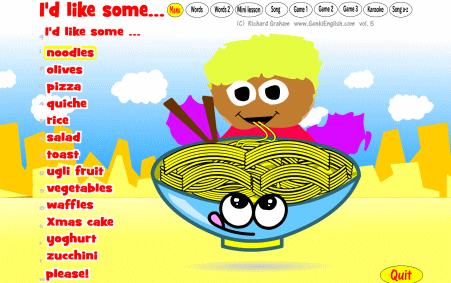 Not 1 but 2 updates for you this week!
As before VIP Members get them as a free upgrade for helping me do the final (stressful!) checks. Thank you!
Songs/Graphics/Vocab testing has all been completed and can't be changed, what we need to look for here are real mistakes, spelling/typing, buttons not working etc. that sort of thing.
Plus of course if you have any nice words to say about the update it always helps motivate me to do more for you! 🙂
What's changed:
– Loads of new graphics
– Higher quality sound
– More voices
– Remastered Music Tracks
– New "Words 2" section
– New Class "Menu" game – are the numbers a readable size this time?
To install:
1. Safely back up your Download Pack / USB ( because you know *something* will go wrong somewhere!)
2. Right click and select "save as" ( or Apple Key + Click for Mac users) on these links
https://genkienglish.net/clipart/FOODA.SWF
https://genkienglish.net/clipart/FOODN.SWF
3. Copy the files into your Download Pack / USB folder (overwriting the previous versions)
Please write up in the comments if you find any mistakes, or if you don't, to let me know it's all OK!
Hope you like it!!
Be genki,
Richard
P.S.  From a teaching point of view, this is one of the last themes that I wrote for my own classes, so it isn't easy!  I made it to challenge my kids, and they certainly rose to it.  But if you want something easier (you wimp! 🙂 ) then check out the "Do you like foods?" theme instead! 😉
P.P.S.  These updates will only be available for a limited time, I'll take them down as I upload more of them so get them while they are hot!