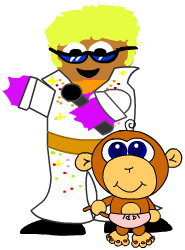 Hope you've been *loving* everything so far this week!
Today I have something to make your life even easier.
The * New Genki English Lesson Plan! *
The original Genki English lesson plan was what I first developed for my own classes.
And it still works pretty well.
But today and for all the new Genki English projects, e.g. the schools in Africa, we have one that's even better.
1. It's even easier to teach.

2. It's even easier to prepare.

3. So far it gets even better results!
Sounds good, eh?
If you want to give it a try, here it is.
In just 3 steps:
1. Warm Up & Review
Same as before, "Stand up", "sit down" etc. plus review EVERYTHING done so far
.
2. The New Bit:
New Material with Computer Game *first* and then the Song
1. Learn new phrases with the software computer game *first*
Instead of "repeat after me" with flashcards, let the kids play the software computer game for today's new theme.
(Just one computer at the front, one child controls it, the others guide them like in the photo below.)

This is this biggest change.
Try it first *before* the song (it takes a good 10 to 15 minutes) and you'll be amazed!
( Have a look at Genki Korean or Spanish if you want to experience the feeling for yourself.)
2. Use the software "Words" with actions/gestures to check meaning of phrases.
We need to make sure the kids understand what they have just learnt.
But don't *tell* the kids the meanings.
*Ask them* what they think each phrase means and make sure there are no misunderstandings.
(e.g. kids sometimes think "I'm hungry" means "My stomach aches" or something – it happens.)
.
3. Sing today's song with the gestures, animation and music.
This is what keeps the English in the kids heads till next week.
Make sure to do the software "Mini Lesson" first otherwise it won't work for older kids.
(Have a look at GenkiGerman.com or GenkiJapan.net if you want to experience the songs for yourself!)
3. Practice new material – Classroom Game
Games simulate a real speaking environment – complete with adrenaline overload!

You can find them for each theme written up in the  lesson plan book.

.
.
And that's it!
It's been amazing how well it has worked so far.
The idea is to make it as easy as possible for the teacher.
*And* maximise the learning of the children.
Obviously yes, you do need a computer (just one at the front)  in class.
But this is 2012. 🙂
Give it a try in your class.
I think you are going to love the extra free time.
And the extra results from the kids.
As you can tell I'm really excited about this, so if you have questions please ask away in the comments below!
Be genki,
Richard
P.S.  If you are doing the Genki English Homework programme as well you can run through part 2 very quickly. ( As the kids have already done it for homework.) This saves you even more time in class.  (And it's so obvious to spot which kids have or have not been doing the homework!)