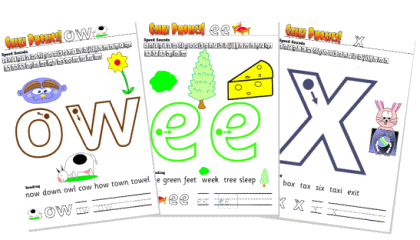 Do your students have ever have problems with reading / spelling / pronunciation / writing?
If so I hope you enjoyed the "How to teach abcs" post last week.
Thank you very much for all your nice messages.
One criticism that I often hear during my phonics workshops is:
Phonics is rubbish, it only covers the letters a to z!  What about things like "write", "phone" or "magic e"?
Aha, a very easy question to answer!
Toy shop style "phonics" materials or free phonics worksheets on the internet usually only cover a small part of what phonics really is.
And I totally agree, if that's all there was to phonics I wouldn't like it either!
Luckily if you get a *good* phonics programme it should have at least 3 sections, and this is where the cool stuff is:
1. The first part are the basic sounds s, a, t, p, i etc. – i.e. what the basic courses cover.

2. The second are the sounds that have multiple letters for one sound e.g.  igh, sh, ch etc. – this is what makes phonics easy!

3. And then the third section will cover "alternative readings" other ways to write sounds, and this is where the "magic e" etc. comes in.
Once you do it this way it's really, really easy for the kids.
And for you.
It does take a bit of time.
Even with my 5 minute phonics it takes around 70 lots of 5 minute chunks.
But it is totally worthwhile.
If your kids have every struggled with reading, spelling or pronunciation, have  a try through the course .
I think you'll become one of us and fall in love with proper phonics!
Be genki,
Richard
P.S.  Top Phonics Tip:   If you have your own young kids at home, try the phonics posters with them before you use them at school.  You'll see the results much more quickly with your own kids (or nieces, nephews etc.!) and will feel much, much better about using the 5 minute phonics in class!