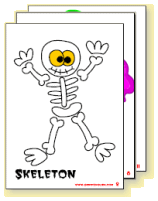 Today we've just started shipping the new updated Laminated, Printed Picture Card Pack C.
It now contains A4 cards from the new themes: Trick or Treat, I'm a superhero! I can …, Can you speak…?, Pronouns, Winter Clothes, What do you want to do?, What do you want to be?, What would you like for breakfast?, Do you have any brothers or sisters?, What time is it? 2, Let's build a snowman, Let's build a gingerbread house, It's not bad, it's good!, Do you like animals?,
How many… do you have?,
Can you kick?, Where is Baby Monkey? = 172 A4 pictures laminated back to back as 86 cards.
17,800 Yen + P&P

Obviously these packs aren't for everyone, but if you're short on time they can be a real time saver.
Or if you want to order outside Japan, they are huge big packs and the postage is very expensive but email me with where you are and I'll get you a shipping quote. For the previous packs I think the postage prices were around $80 to Seoul, $128 to the EU, US or Australia and around $220 to South America!
So in that case it might be better to just sit down and laminate them yourself. But it's always worthwhile asking if your school has a budget, you never know they might just have one!
Cheap Colour Printing
If you do print them yourself and want to save money then I'd recommend an inkjet printer and buying big bottles of ink online to refill it. As the Genki English cards use lots of primary block colours then you'll often find that printing colour this way is only slightly more expensive than black or white.
But the educational effects colour gives of more motivated students, and the word of mouth and hence extra income from parents as they see your colour print outs, usually far outweighs the extra printing cost so I'd always say colour is more than worth it and one of the best investments you can make.
But then again if it's only cost basis, if you calculate your hourly pay then it works out a lot cheaper to buy the packs from us rather than spending the extra hours sat behind a laminator!
Anyway enjoy the new pictures, they are looking great!