Usually I'd test these first drafts in house, but I figured you might want them ASAP, so here you go A4 pictures to go with the new "How many days till Christmas?" song!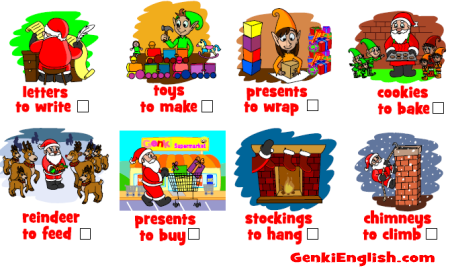 As I say these are first drafts so let me know a) if you like them or b) any changes you'd like making in the comments!
(Comments are always what inspire us to make everything, so thank you for them all!)
There's also a workbook page (as we had a lot of requests for lyrics!)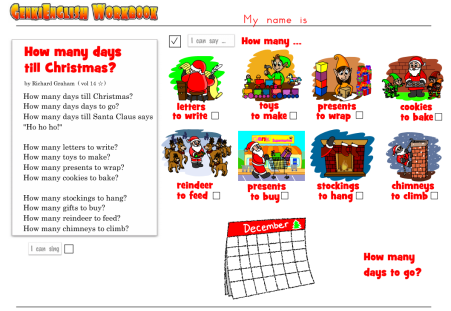 And just in case you didn't get the mp3, here it is!
How many days till Christmas? MP3
(VIP Members can right click and select "save as" to download it)
We've been getting some great feedback:
It's a real hit, Richard!! – Julia

That's a great Christmas song! My kids would love it! – Astrid

Brilliant! – Gumby

That's so nice song!!! – Yuppy

Heard the song and right there decided to use it for the lesson…  - Nena

Really great song Richard! – Charlie

As always another brilliant addition to the Genki songs! – Linsey

Great stuff! – Liza

It's funtastic! – Susanna

It's just great!  - Jaione

Wonderful!! – Irene

Can't wait to use it on Wednesday  - Karen
As I say it really is comments like this that make it all worthwhile, so thank you so much!  And you know what …. you might just have inspired me to make another new one for you ……

Do let me know what you think of the pictures in the comments!
Be genki,
Richard
P.S.  Also other great comments on the 2014 Europe Workshops post, do check out those comments to see if there is anyone near you!
Press the "+1" button if you like this!
Comment Competition:
Every month I'll select a random comment to win a Genki English CD of your choice. Comment a lot and you have more chance of winning.