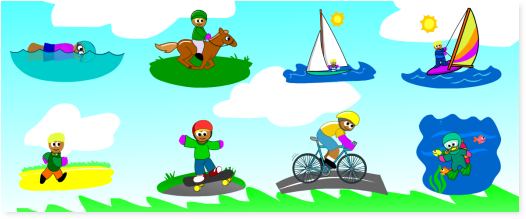 For the fans out there this brand new vol. 13  just has to be lesson of the week doesn't it!
The the best thing is you have two ways to teach it.
The Super Easy Way – it just uses "I like …" plus the sports names.
e.g. I like swimming.  I like sailing.  etc.
Really easy so far, yeah?
(Ninja Tip:  This can work great as a first lesson, but…. if you're just starting out with Genki English – welcome aboard! – then this lesson is actually part way through the curriculum so I'd usually recommend starting with lesson one – The Disco Warm Up - first and you'll work your way up to here during the year!) 
Want to teach grammar the easy way?
Then … for those classes with a little Genki English  experience, the really cool thing is,  you can just flip one word – just one word – and you have the past tense.
No messing around with complicated explanations,  you just flip the word "like" into "went" so you have.
I went swimming.  I went sailing etc.

This is so easy for the kids to get and has to be the simplest way to introduce the past tense.
(Ninja Tip:  For even better results, use a "thumbs up" gesture for "like" and thumbs point behind you over your shoulder for "went.")
With the question "What did you do in the Summer?" I never actually pre-teach it.  Just let them sing the song and they'll get the "What did you do in the Summer?" pronunciation by the third verse and then you  just check that they figured out the correct meaning at the end!
It works like a treat, is very impressive to parents and is great to lead into presentations, so do give it a try.
Check out the videos, lesson plan, games, handouts etc. here!
Be genki,
Richard
P. S. I also did this lesson (complete with the past tense version) in a kids' exhibition lesson earlier on in the year.  Would you like me to upload the video?  Do let me know in the comments!
P.P.S.  Lots more games, printables and ideas coming up over the next few weeks so do keep your eye on your inbox.  And be sure to tell your colleagues about them too!
Press the "+1" button if you like this!
Comment Competition:
Every month I'll select a random comment to win a Genki English CD of your choice. Comment a lot and you have more chance of winning.