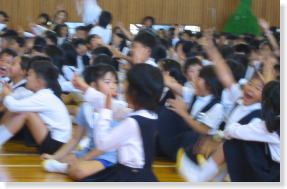 School is broken and we need to change it.  That's what Genki English is all about.
Instead of "sit down, shut up" we need questions as the curriculum, instead of "chalk and talk" we need songs & games, we need positive rules and generally more "Genki" – meaning "energetic", "exciting" and "full of life" – energy into class.
Luckily many people are wanting to change things too.  Bill Gates has had a tough time – even with $5 billion,  Sugata Mitra (who works with the projects I'm helping with in India) thinks that classrooms without teachers is best.
But today Seth Godin shows what the real problem is.
Are you teaching in a "drop out factory?"