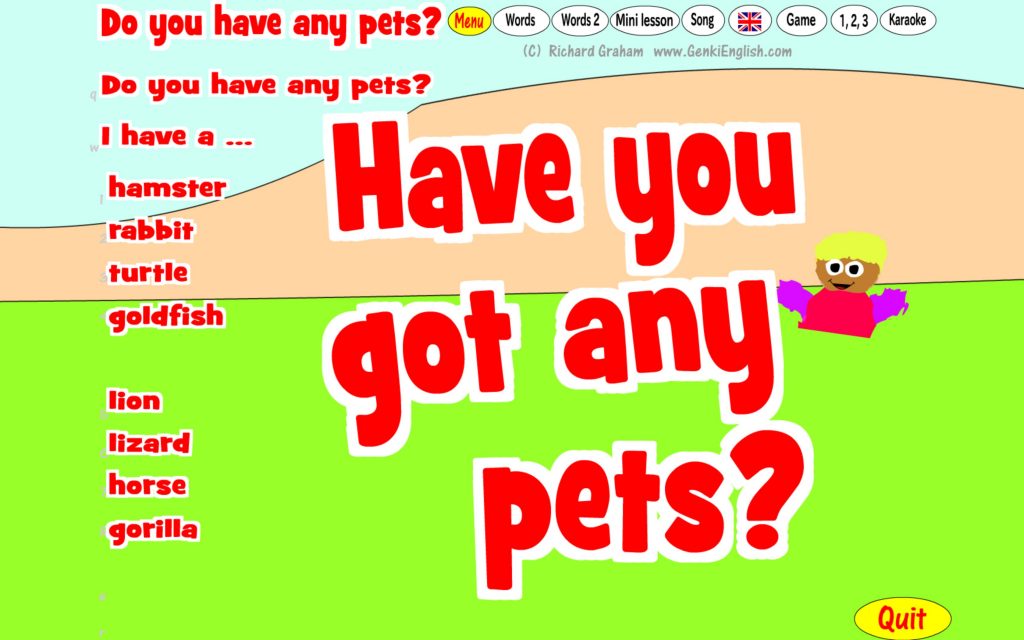 I've got some good news for Genki Teachers in Italy (or maybe other countries too?) today!
If you're in a school where you have to teach "Have you got ….."  instead of "Do you have ….."  then I just did a "Have you got …" remix of the Genki Pets lesson!
There's the "have you got" remix song,  just click on the 🇬🇧 button, and on the "Words" section there are a couple of hidden Easter Eggs if you hit the "e" or "r" buttons! 🙂
I haven't put this through all the testing etc. that usual Genki English materials go through yet,  so if you do spot any mistakes then do let me know.
And…..   is it OK to use "I've got a ….."  as the answer or do you need it to be "I *have* got a …"?
Here's how to get the update:
Right click on this file to download it*
Save it to your Genki English folder, overwriting the existing PETS.SWF file.
Enjoy! 🙂
Ninja Tip: And as always, although I'd love to, I can't offer tech support for these free upgrades, so do help each other out in the VIP FB Group or just grab the nearest tech savvy student to help you out!  You might not be able to download the file on Internet Edge but Chrome and Safari should be fine! 
Enjoy and do let me know how it works out in your class & once it gets the OK from everyone I'll add it to the students software too!
Be genki,
Richard
P.S.  And if you are in control of your curriculum I'd always recommend teaching the "Do you have …." form of these questions as that is by far the most commonly used!