Before I do the Hanoi write ups I figured I'd better write up what we did in the Russia and Italy workshops this year.
Why?  Because I just want to say I am so, so, so, so, so, so grateful for all of you.
As you'll see in the Hanoi write ups, all of you from Italy and Moscow, and of course those of you reading this from Vietnam,  are in the top 99.999% of teachers in the world.   Seriously, your level is way, way, way above the vast majority of English teachers on the planet.
I wish everyday could have the magic that you all brought with you.
I am so grateful to have the chance to work with you and want you to know that.
Just for me to remember a little for next time….
A lot of the awesomeness was in the lunches and restaurants in the evening,  and during the day here's some of what we did:
We also did the mastermind sessions – by the pool in Italy!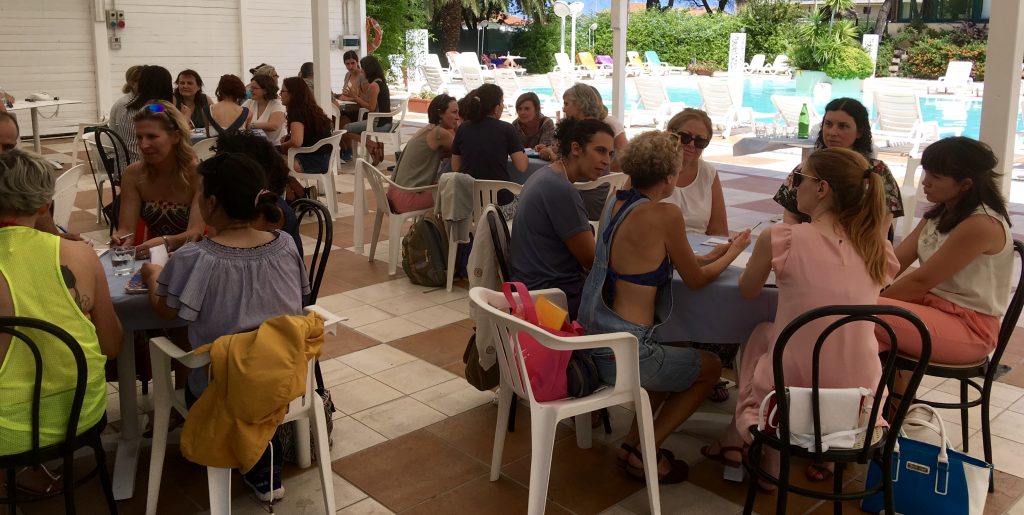 6 Minutes x 6 People on your greatest challenge in teaching, with the Genki Gram messages.  Always positive answers, always constructive.
Things to keep in mind
All "But"s becomes "And"
Be careful of English Teacher's Disease:  Talk less – it's not English showing off time 🙂
Keep an open mind,  if you get a suggestion, acknowledge it and absorb it.
Always look for solutions,  leave the "my situation is terrible like that too!" for the wine with your friends.
Check the level of the person you are speaking to.  Reduce your level of English if needed.  "You only truly understand something when you can explain it in the words of a five year old."
"How do I …", "If maybe you could help me"  and "I need your advice"  are great phrases
Be genuine with your "Thank you"s
Be friendly with everyone.
It's not a fight, me vs. you,  it's everyone on the same team.
Be inclusive – make sure everyone in the group is listening in when you talk.
It's OK to jump in if someone says something crazy!  ( e.g. "My kids are laughing all lesson, how can I stop them?")
Talk more slowly.  Talk more clearly.
Doesn't it feel that emotions, rather than facts, can help people understand.
There was a teacher who tried to teach his class.  "Listen to me, listen to me" he kept saying.  And the students just ignored him.   Then one day he decided to use a story to make his point.  And just look what happened …
"Impossible" doesn't exist.
+ You realize that everyone has problems and the you are really quite an awesome teacher.

In Italy we also did the bonus Mastermind where you all videod your favourite games, those are now on the Genki English Italy Facebook group.
Actually you know, in Russia we did pretty much all of the Genki English curriculum!
The Power of 気
And you were the first two workshops where I've talked about the power of 気 – the "KI" of GenKI and AiKIdo.    Master Stephen Co is probably the best English speaking master on this subject.   Although he does seem a little like an infomercial from the TV Show "Lost" here 🙂
Ninja Tip:  Look how he starts.  What's your story? 😉
Genki Business
Plus of course lots and lots of business work,  from the School Owners Coaching Program ( which is open now BTW 🙂 ) or the free text based course.
Can you help me?
And as all of you know, it wasn't really about the games or techniques,  it was all about the energy, the community and support.
And words cannot do that magic justice.
So let's make this a group effort and in the comments write up any activities that I've missed,  and more importantly, all your take aways.
Hopefully we're looking at France and Minsk in June.
And again,  I'm writing this after two very, very hard days in Hanoi,  and you really are some of the most amazing teachers ever.   I so much appreciate all the energy, questions, support and dedication you all bring.
Let's go into the future together,  it's going to be quite awesome!
Be genki,
Richard
P.S.  Keep those takeaways and activities that I missed coming in the comments, you'll save me a whole ton of work! 🙂