! ESL EFL English site for elementary school kids, with free MP3 songs, games and teacher training >

New pdf Gingerbread Man Picture Book (for VIP members)!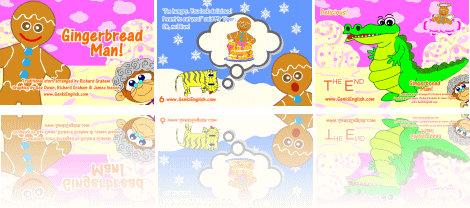 This song is in the Teacher's Set

Plays can be a great way to end the year.
It can, however, be a little tricky finding one that has a good story and easy enough English.
Over the past few years I've been working on a Gingerbread Man play,
and I'm very excited to say it's finally here.

There are many ways to try it, and here is a quick video of the simplest way.



1. Read through the picture book and mini lesson on the software.
2. Put the kids in a circle.
3. One person comes to the middle to sing the gingerbread man lines.
4. Everyone else becomes the other characters.
5. Sing the chorus with gestures.
6. At the end they all try and eat the gingerbread man!



Here it is in action with Virginie's kids:


And here is the picture book (there are two narrations on the software)




Or you can use the masks below!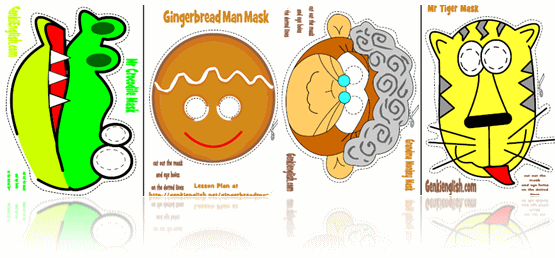 Here are some VIP Member printables to help out.

Picture Cards: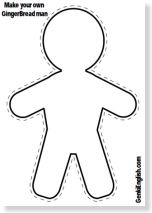 New: Make your own Gingerbread Man

Mini Cards: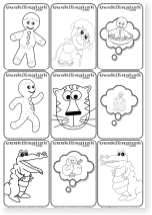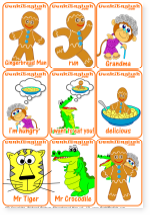 The Gingerbread Man Song
=========================
Chorus Words: Traditional
Song & Verse words: Richard Graham

Run, run as fast as you can,
You can't catch me I'm the Gingerbread Man!
Run, run as fast as you can,
You can't catch me I'm the Gingerbread Man!

There's Grandma!
Hello Gingerbread Man.
Hello Grandma, how are you?
I'm hungry. You look delicious!
What?
I want to eat you!
Oh, no, let's run!
And Grandma,
Yes?

You can run, run as fast as you can,
You can't catch me I'm the Gingerbread Man!
You can run, run as fast as you can,
You can't catch me I'm the Gingerbread Man!


There's Mr Tiger.
Hello Gingerbread Man
Hello Mr Tiger, how are you?
I'm hungry. You look delicious!
What?
I want to eat you!
Oh, no! Run! And Mr Tiger,
Yes?


You can run, run as fast as you can,
You can't catch me I'm the Gingerbread Man!

You can run, run as fast as you can,
You can't catch me I'm the Gingerbread Man!

There's Mr Crocodile.
Hello Gingerbread Man
Hello Mr Crocodile, how are you?
I'm hungry.
Oh no!
You look delicious. I want to eat you!
Oh, no!
Yes!
Quick, run! Mr Crocodile!

You can run, run as fast as you can,
You can't catch me I'm the Gingerbread Man!


Recommended Games



---
Reader's Comments:



Wow ! You are right to be exited. Great song.

- Dominique in France



Fantastic!!!!!! Your right the chorus is absolutely GREAT!!!!!!!

- Nena



This is a great song!!!! It combines themes together too! It would make a great picture book!

- Carol
(I'm working on the picture book!)



This song is marvellous. And it fits perfectly in my syllabus, since Ifve been teaching family and animals to my 2nd graders. And with Christmas on its way...perfect! Thank you!

- Sonja



We had our first rehearsal this afternoon. It went really well and the kids loved it. Thanks again.

- Liza



Thatfs is fantastic!

- Julian



Absolutely FANTASTIC! As soon as you put it up I used it with a seven year old girl who does private lessons alone...(she pretty good in English...) We read the book and then played the song...then we talked about the differences...It was a great lesson! Ifll try it with my 3rd graders on Friday! Thanks for all the hard work, l love the art work...my favorite the crocodile!

- Nena



Wow!!!@This is fabulous! What a big surprise before Christmas again. Thank you so much. Ifm really having great lessons with my 5th graders with this topic.

Itfs also easy to link:
1. "letfs make a gingerbread house"
2. "gingerbread man" story
3. retell the story and in the spot where the boy asks grandma to make a gingerbread man add the simple instruction: "letfs make a gingerbread man: first we need some..."

4. make gingerbread man and/or house

And: This crocodile is SUPER! Thank you! - Margit




This song is in the Teacher's Set