It's the Coronation this week in the UK so I made up a quick "reel" with some quick Coronation vocab words for the different social media channels.
One interesting thing is to see the huge difference in viewers between Tik Tok, Youtube, Instagram & Facebook: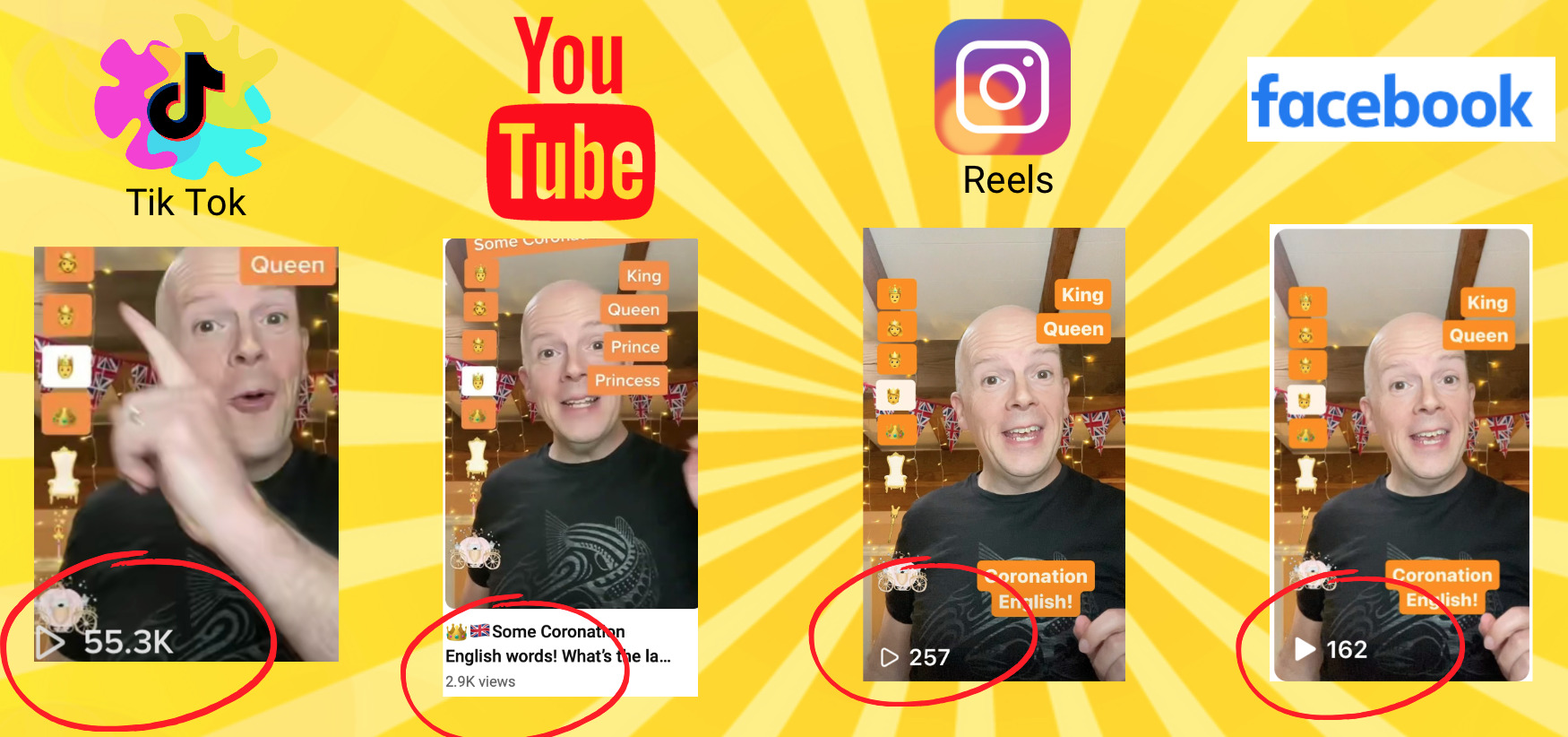 Obviously there are lots of reasons for the differences but it shows that if you don't have a following yet that Tik Tok is still by far the easiest way to get started to reach new people & get them learning and commenting.  (And remember this time last year I had only 81 followers on Tik Tok!)
Having said that …. since I was at the IATEFL conference last week I've met and found dozens of English teachers who now have over 100k or 1 Million followers on …… Instagram!
There are so many of them!  It's crazy how big English learning is over there.
Now of course big numbers like that don't necessarily mean big income if you don't know what to do with them,  but Instagram is certainly something I'm going to have to look at more over the next few months.
I've put up details of some of the biggest teachers to follow over in the Genki Business Group  (which you get access to with the amazing Genki Business Course for learning the business side of teaching English) and we've had a fantastic conversation just this morning from one amazing Genki teacher who is now doing extremely well selling English courses through Instagram.
Congratulations!
It looks like I've got lots to learn and I look forward to sharing with you all the tips, tricks and tactics over in the Genki Business Group!
Be genki,
Richard
P.S.  If you want to check out the Coronation reel,  you can find it here on Tik Tok,  here on on Youtube, here on Instagram and here on Facebook.