Thank you to everyone who took up the special offer last week – welcome on board!
If you're lucky enough to see your class everyday you have lots of skills to teach, not just English and confidence.
And of course it makes sense to try and Genki those up too! 🙂
So Amye has come up with this amazing basic skills workbook that I'm sure is going to be a lifesaver for all the VIP members out there!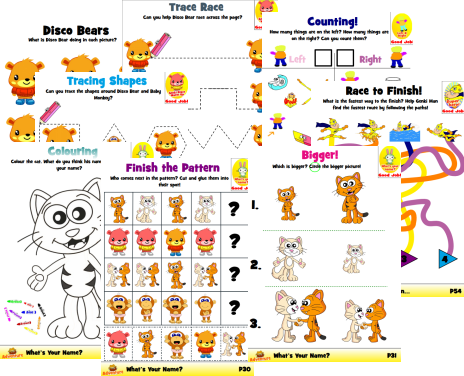 Ninja Tip:  If you're not a VIP member yet,  order your Teacher's Set  now and you'll be able to download this workbook too.
It covers Tracing & Motor Skills,  Numbers and counting skills, Pattern recognition and observation plus a whole bunch more all for the first Adventure level.
Over on the VIP forum Amye wrote up a few words:
-I am in the process of making a teacher's guide which has instructions and hopefully an answer key. This will hopefully clarify what one is supposed to do with some of the more confusing pages.

-The pages with genkienglish.com (the back for card sets) is for if you print the entire book out in one go. They usually come after a cutting page.

-I used full colour backgrounds as my kids want nothing to do with B&W paper haha, but I am definitely thinking of making a more ink-friendly version if there is interest.
I think it's amazing what Amye has done, thank you so much for sending it in!
And if you have comments for Amye please do write them on the blog comments, or indeed if you'd like to see further books made for the other Genki English levels!
Be genki,
Richard