For the past few days it feels like I've been flying along in a Ferrari doing 200mph, talking with all sorts of people about all sorts of amazing projects. All the education stuff was a given and we were talking about really leading edge stuff.
Then what happens today? I'm back in Japan and I feel like the breaks have been applied and we're slammed into permanent first gear….
After taking the midnight flight and arriving at 6AM, I got a quick shower at kansai airport then took the shinkansen bullet train to Okayama. They were having an open day for hundreds of teachers around the country. I was supposed to speak but because I couldn't guarantee the flights I cancelled it. It's probably just as well as I don't know what I would have said to them. Well, here was what I saw when I arrived…
Well maybe I was too harsh on them? But then again am I just covering stuff up by saying that? Just look at the kid at the front, does he not look seriously bored or what?
We know what works in primary school, we know how to engage kids and make curricula and we know what ages to start. But just look at the results here. And it's even harder for me to say because I've actually taught demo classes here and have given training to the teachers! In the other grades they were apparently also using lots of Genki English. But… it seems they were just using them for the songs and not really taking any of the important points and it all just falls apart. They were handing out a DVD today of "chants". They'd taken the Genki English songs, stripped the melody, the rhyme, the music, the fun and just zapped the life out of them. It's such a shock and disappointment after seeing the results we've been getting in the other countries. The sad thing is that the teachers are trying hard. But still…
In the afternoon we had a few speeches about what they were doing. There was nothing the teachers could really take away to use in class, it was just going over information we already know, such as kids find English more enjoyable in lower grades etc. They were even handing out materials on floppy disc! Dude it's 2008!
Everyone was, as usual, super paranoid that elementary school English shouldn't be like junior high school where the kids hate it. That's the biggest worry of everyone here. But we already know that! We know how to make it fun and so the kids learn and we've known that for 10 years!
Everything is "difficult" they keep saying. Like what? Not having electricity? Not having clean water to drink? Kids being tired from biking 12 kms? Afraid of a war or landmines? They need some perspective.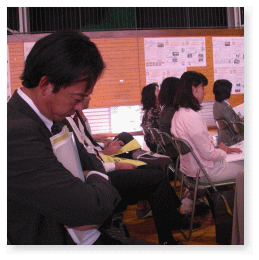 There was also a guy doing a speech about the Eigo Note. He was really distancing himself from the content, I guess he knows how bad it is. Then again, maybe not, because he didn't seem to be able to speak a word of English himself. The main thing he was saying is that the content should be used as a "common ground" of material that kids have covered before entering junior high school. Which is fair enough.
The guy did go on a bit and was seriously boring though. I hadn't slept, had just come off an aeroplane and was really tired, but I kept listening. Which is more than can be said for the teachers around me, they were fast asleep!
If anyone knows the guy in the photograph and wants me to take it down, then I will, but not after he's told me what he's doing sleeping when he was being paid with my tax money to be there, and more importantly entrusted to teach the children of people I know!
It really, really makes me appreciate all of you who read the blog and help on the forum, as well as all the other teachers this week, even more when I see things like this. Thank you! 🙂