Thank you for all the requests…. if you have a look half way down the right hand "bonus materials" column on about 3/4 of the themes you'll find 43 new sets of dominoes.  If you have the time to print and cut them out they are a great activity.  Just pick your favourite theme from the Curriculum Page and enjoy!
How to play:
1. Deal half the dominoes out amongst the players. Put the other half on a left over pile.
2. One person puts down one domino.

2. The next person puts down another domino that matches. e.g. if the current domino is a butterfly/cockroach, you either have to put down a domino that has a butterfly next to the butterfly or a domino that has a cockroach next to the cockroach.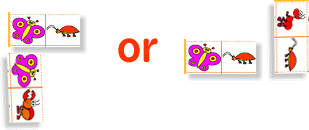 3. They say the name of the animal / object they are matching. If they can't say it in English they can't put the domino down and have to pick up another one from the left over pile!
3. Keep going, each time matching the ends of the domino trail.e.g.


4. If you can't go, because you don't have a piece that fits, then you have to pick up one of the dominoes from the left over pile. ( e.g. in the example on the right above you can only go if you have a caterpillar card, or on the left example only if you have a cockroach or ant domino) ,
5. You win when you get rid of all your dominoes.
Simple and fun!