Babi just sent in this great new game.
If you like it do send her a nice comment on the blog. I can't wait to try it myself!
THE GAME OF THE "ICE EATING WOLF"
1. I create badges (or stickers) with the vocab from today's lesson and I give one badge to every kid.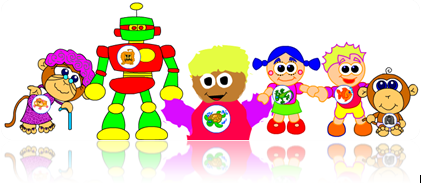 2. They hang their badge on the t-shirt so that everybody can see it.
3. Then, I say… "And the wolf is… " plus one of the vocab items. e.g the hamster for the pets lesson on vol. 6.
4. The hamster is the wolf and has to catch the other kids.
5. Once they catch one other kids they say out loud the pet name they caught.
6.  They go on like this, till they catch the last kid!
Of course, once the last kid is caught, they want to play the game again and again.
Very useful, after 3/4 matches they perfectly know the new words.
– What do you think?  This is the first game Babi has sent in, so if you like the game, do send Babi a nice message in the comments!