Big shout out to Margit for discovering today's game….
If you're teaching describing words then you can't beat the Guess Who? games by Hasbro.
But … what if you can't get to a toy store?
Well, they now have a very nice series of free online printable versions!
The sports one is the easiest: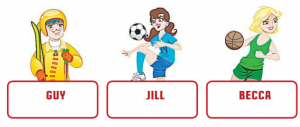 and you can link it in with the What sports do you play? lesson to ask:
Basketball or baseball?
Red shirt or yellow shirt?
Boy or girl?
Or of course if you're in high school and having to teach more "textbooky" type English you can also get them to say full questions like:
Is it a boy or a girl?
Does she play golf or hockey? etc.
There are a whole series of other ones including Kookie Creatures, Easter Bunnies and then some tougher one for older kids with G.I. Joe and Dinosaurs.
Ninja Tip:  Just like with the Genki English Adjectives games the key here is not to ask *lots* of questions, but to ask as few as possible.  Each time try and break the remaining options down to half.  This is a key skill in business, science, time management, finance and everything in life really!
Do let us know what you think in the comments!
P.P.S.  For hair, eye colour etc. do check out the VIP Beta Test "He has / She has" song
P.S.  And if you have any requests for specific describing questions to maybe have in a Genki English version of these games, do let me know in the comments! 🙂