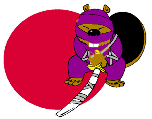 Today's entry is a bit of feedback on the Soldiers and Ninjas game:
I used this game for my 6th grade students at one of the elementary schools that I teach at in Japan and they loved this game. I have one class that never participates and is always disruptive, but playing this game got them really involved and they ended up being my best class of the day! It can get a bit noisy, but it really works well to get the students more involved…despite the long wait time.– Becky
Thank you for the feedback Becky, it's always good to hear of games that work with 6th graders!
If you have any comments or feedback on any of the songs or games, let us know by filling in the feedback form at the bottom of each page, it really helps other teachers get an idea of how the ideas work in different situations!