Last time we had Bunny Hopping for phrases/vocab, and here's another, this time for spelling/phonics.
1. Place laminated posters/cards with all the graphemes (letters or groups of letters) you've taught on the floor e.g.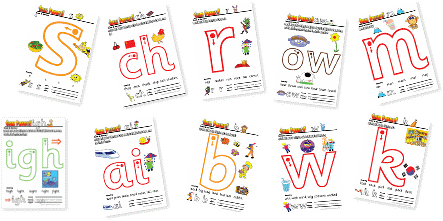 2. The teacher shouts out a word that the kids know the graphemes for.
3. The kids hop to each grapheme to spell out the word!
(Note: Make sure you only put down graphemes that you've taught in class so far!)
It's a great physical variety to add to the phonics/spelling lessons on the second video on the phonics page.
For the flashcards I was going to do a pdf file with just the letters, but I'm thinking the phonics posters would be fine as they are. Β It saves you having to print out another set of cards and you'd have to laminate them anyway! (Plus having the pictures also helps with the cow/how pronunciation trickery!)
But what do you think? Β  We'd love to see your answers in the comments please!
P.S. Β You can also do a desktop version of this by setting your printer to print several posters one one sheet of paper and cutting them out as mini cards!
P.P.S. You can use the words at the end of theΒ phonics worksheets to make sure there's noΒ embarrassmentΒ if you say a word the kids can't do yet!