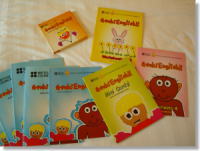 I've got workshops all next week in Bangkok and today I popped in for the briefing session and I finally got to see the Thailand Ministry of Education's and the British Council's versions of the Genki English packs. They've actually come out really, really well!
The funny thing is that there is now an official Genki English lesson plans book in Thai before I've even finished the English version.
Actually I haven't even seen the new CD7 yet myself yet!