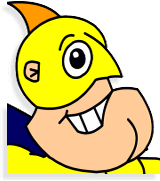 This is a cool game to play with CD9's "I'm a superhero! I can …" or CD5's "Can you play the ….?" theme.
1. Give each kid one of the mini cards (e.g. here or here)
2. Everyone remembers their card, then hides it!
3. You ask the kids how long it will take to do the game, and then time them!
4. "Ready, steady, go!"
5. Everyone runs round the classroom saying "Who can…." plus what is on their card e.g. "Who can swim?"
6. The idea is to meet up with someone else who has the same card!
7. When you find your partner you sit down together.
8. See how long it takes for everyone to be sat down!
9. Give the cards to different people.
10. Repeat from step 3.
11. If anyone shows their card before they have found their partner, they are out!
This is a great genki game as everyone is shouting out "Who can…?" at the top of their voices and you really have to listen for your word, which is a really important skill! It sort of ends up looking like the New York stock exchange!
Try it and see, it's lots of fun!