The Full 45 Minute Genki Christmas Lessons ….

From the Genki English Teacher's Set!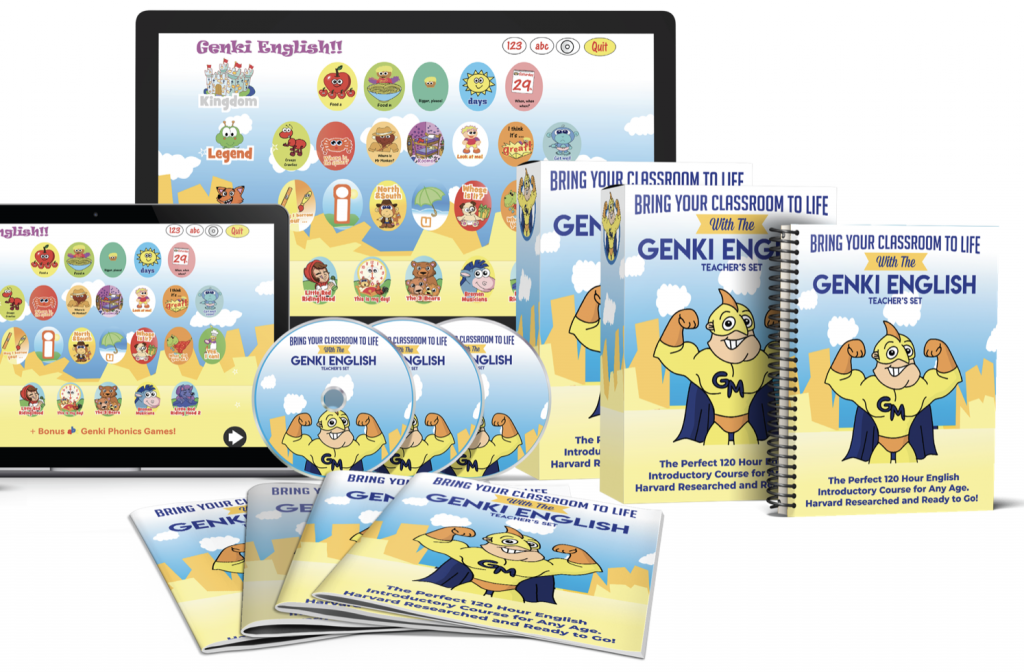 How many days till Christmas?  (245k views on Youtube!)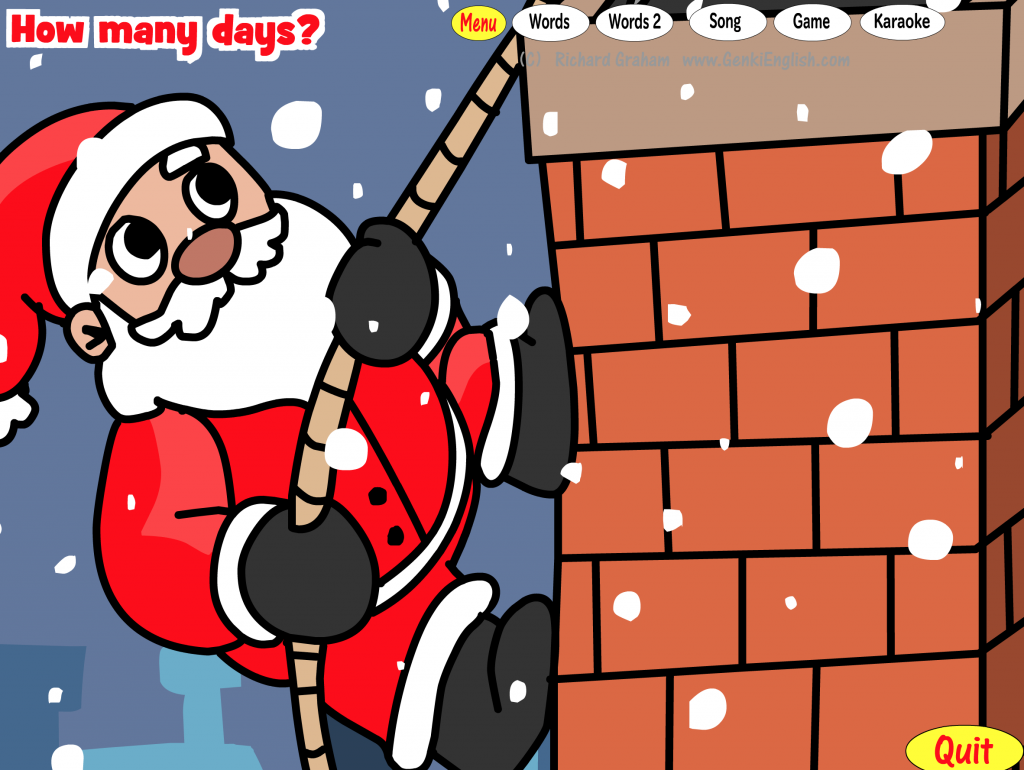 How many days till Christmas? – Christmas verbs and actions
What does Santa do?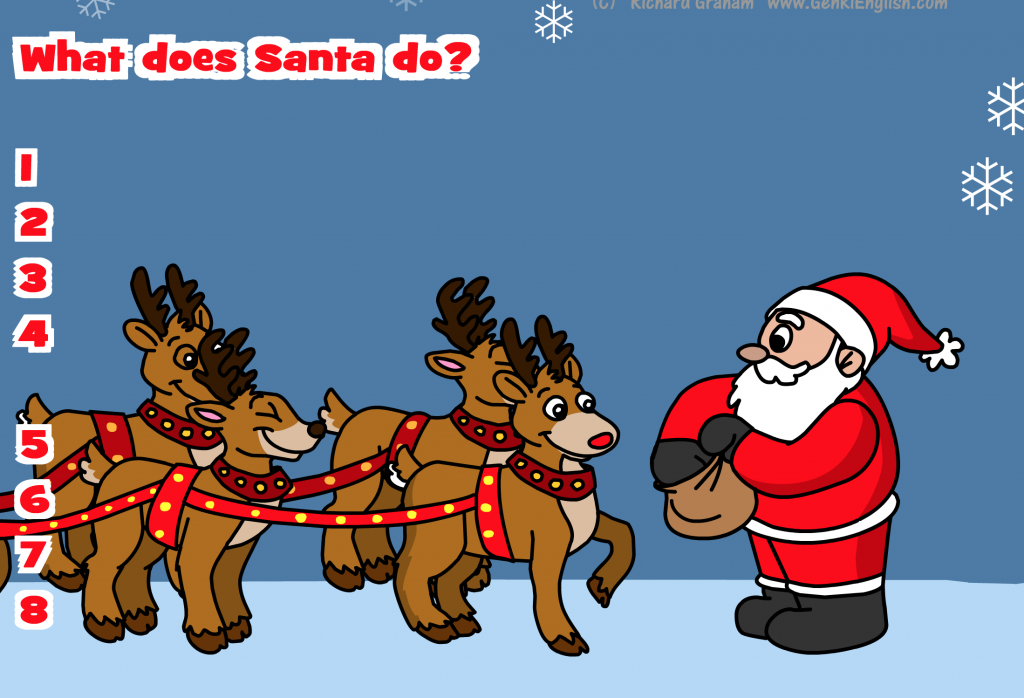 What does Santa do? Christmas verbs + third person "s"
Christmas Shapes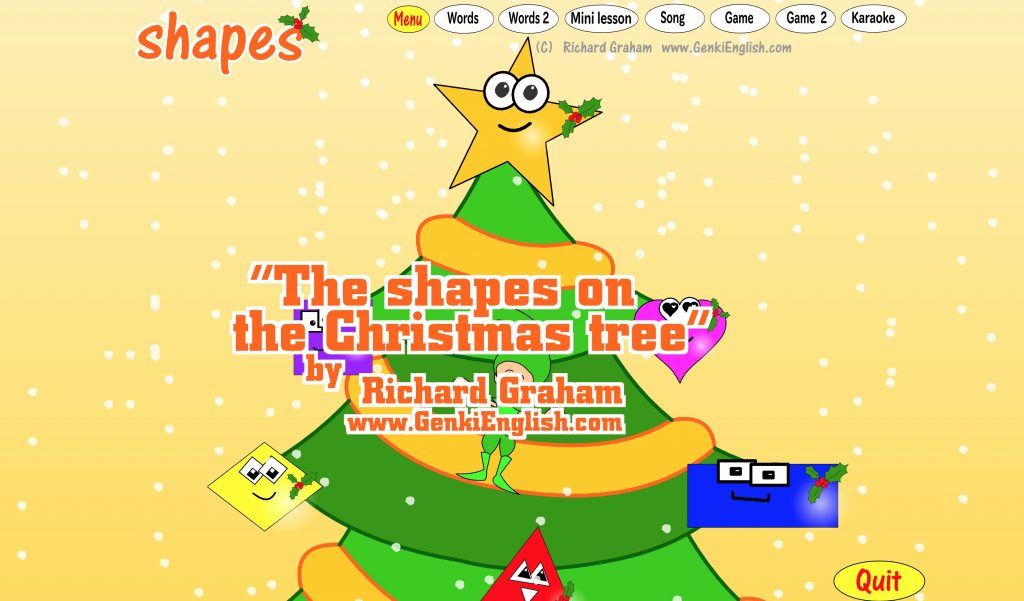 Christmas shapes I can see a triangle, circle, diamond, oval, rectangle, heart, square, star
Gingerbread Man Song & Play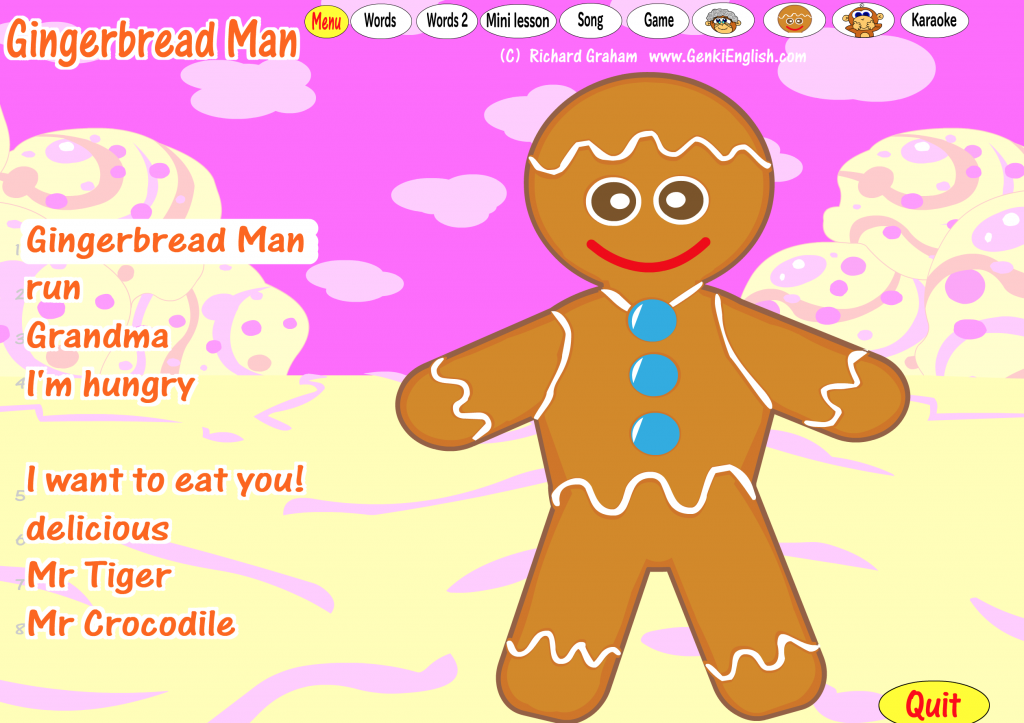 Gingerbread Man – "Hello" "How are you?" "I'm hungry" linked together in a Christmas English play!
12 Genki Days of Christmas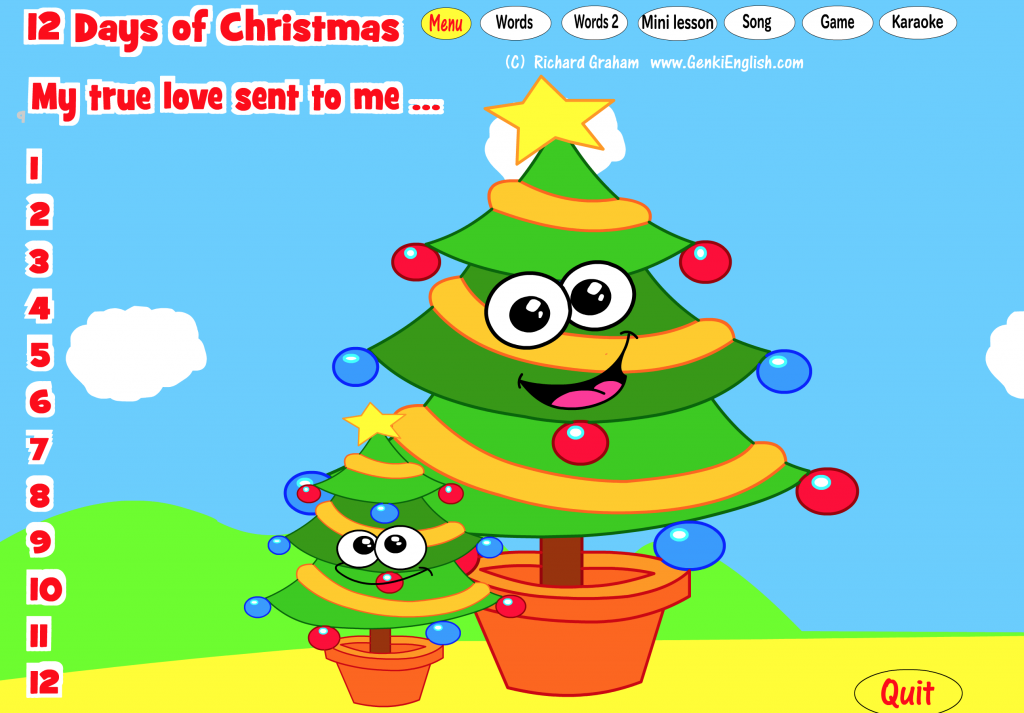 12 Genki Days of Christmas:  Linking together fun, simple Christmas vocab and the themes below into a Genki version of the popular song!
Winter Clothes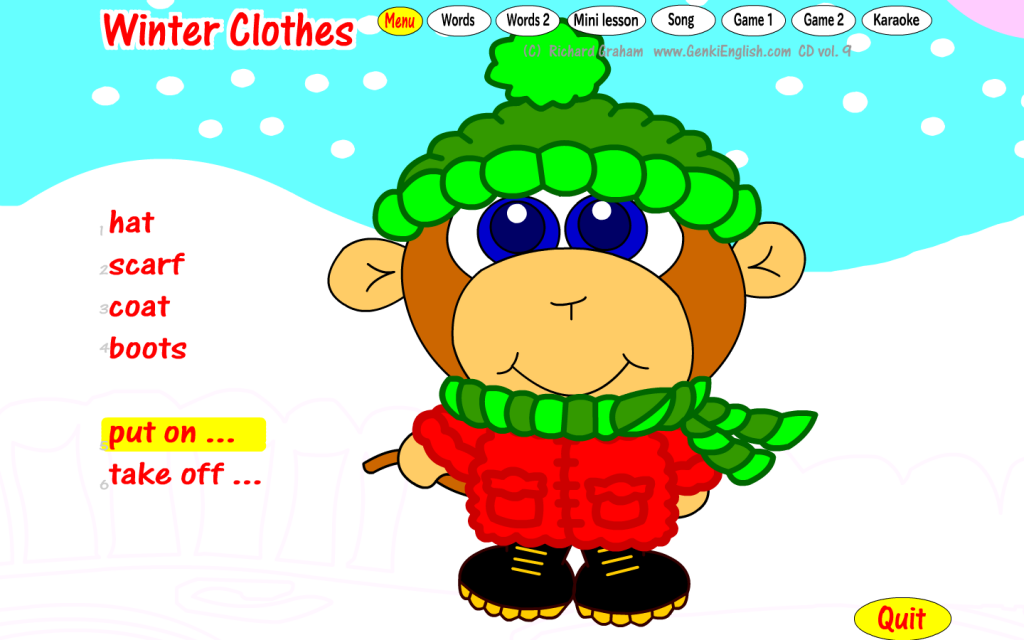 Baby Monkey's Winter Clothes Put on, take off your hat, scarf, coat, boots
Gingerbread House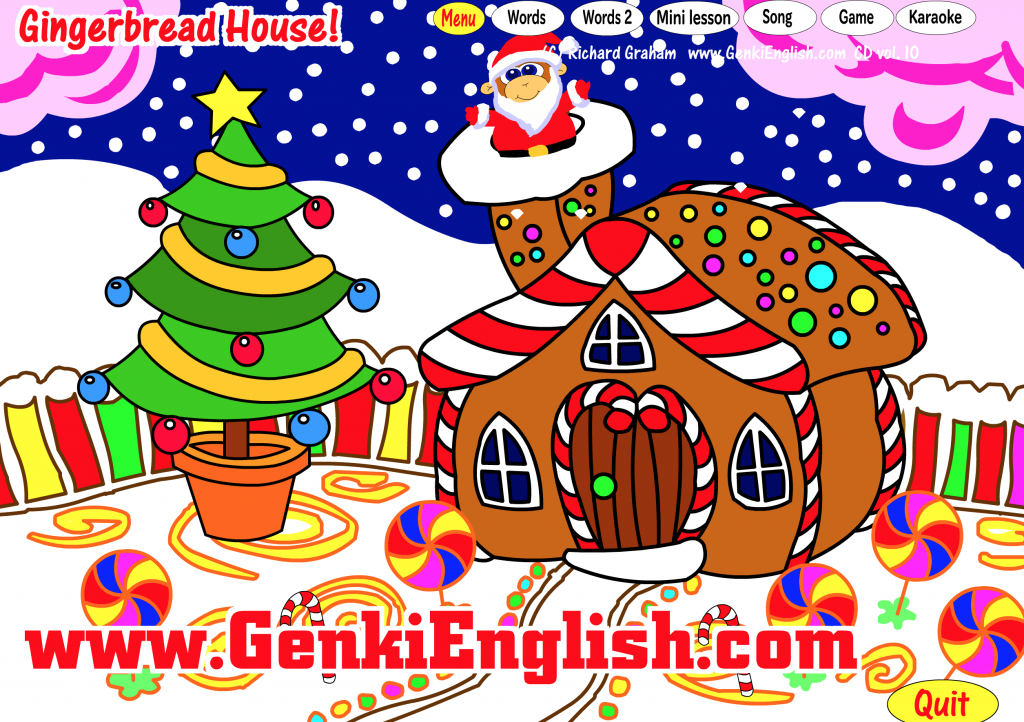 Let's build a gingerbread house windows, door, walls, roof, garden etc.
What would you like for Christmas?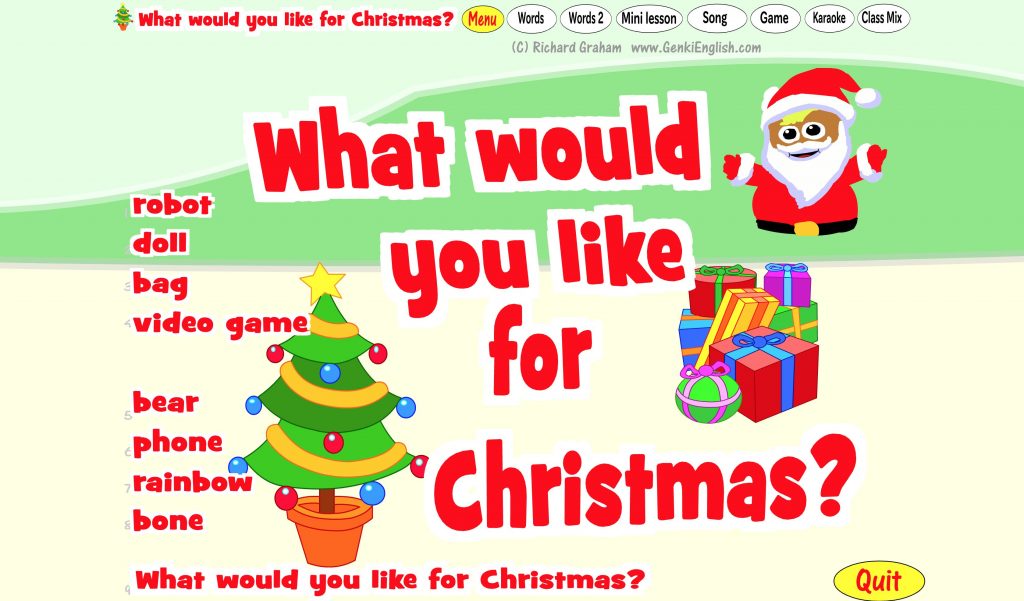 What would you like for Xmas?  "What would you like for Christmas?"
"I'd like a …" robot, doll, bag, video game, bear, phone
Let's build a snowman!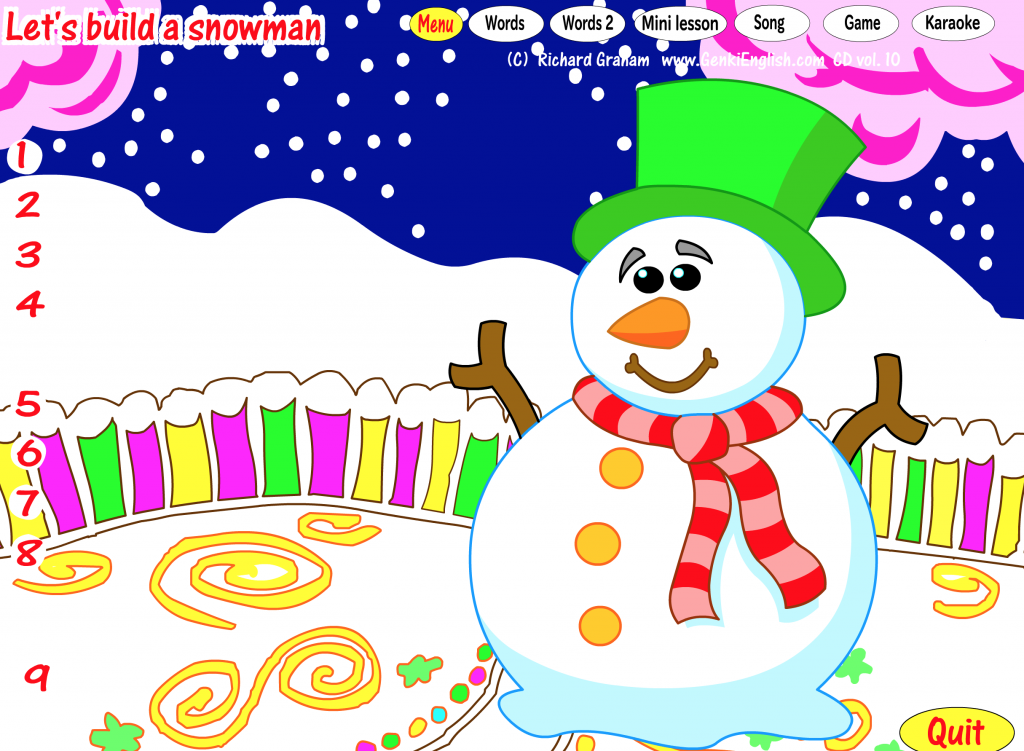 Let's build a snowman Body parts body, head, nose, neck, eyes, arms, buttons, mouth
Let's decorate the Christmas Tree!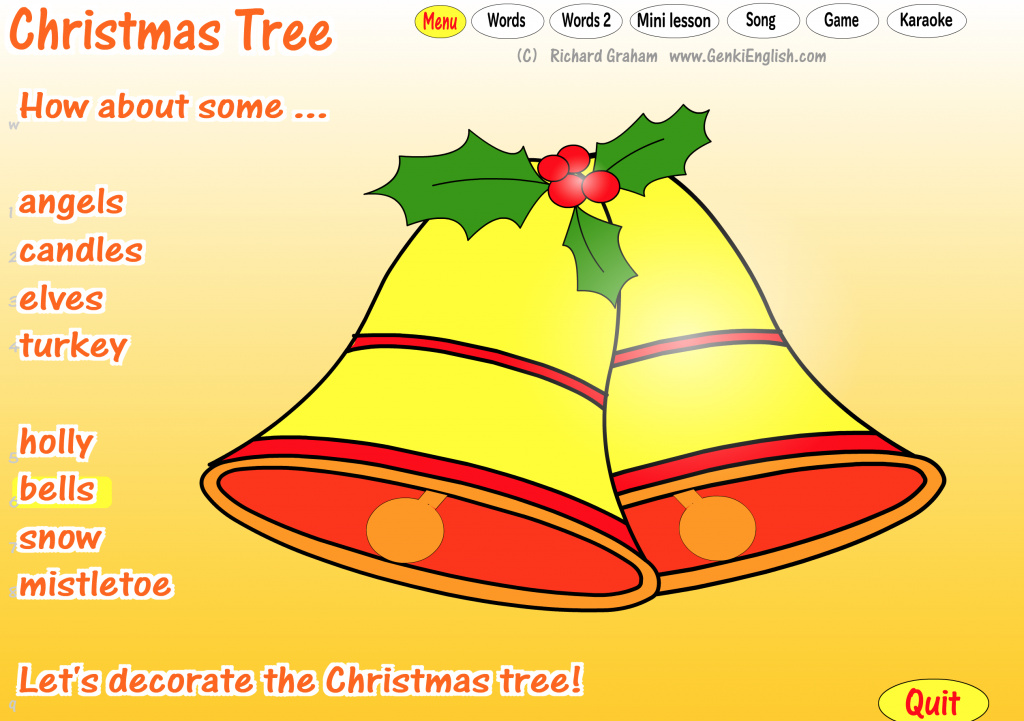 Decorate the Christmas tree How about some + angels, candles, elves, turkey, holly, bells, snow, mistletoe
Christmas Colours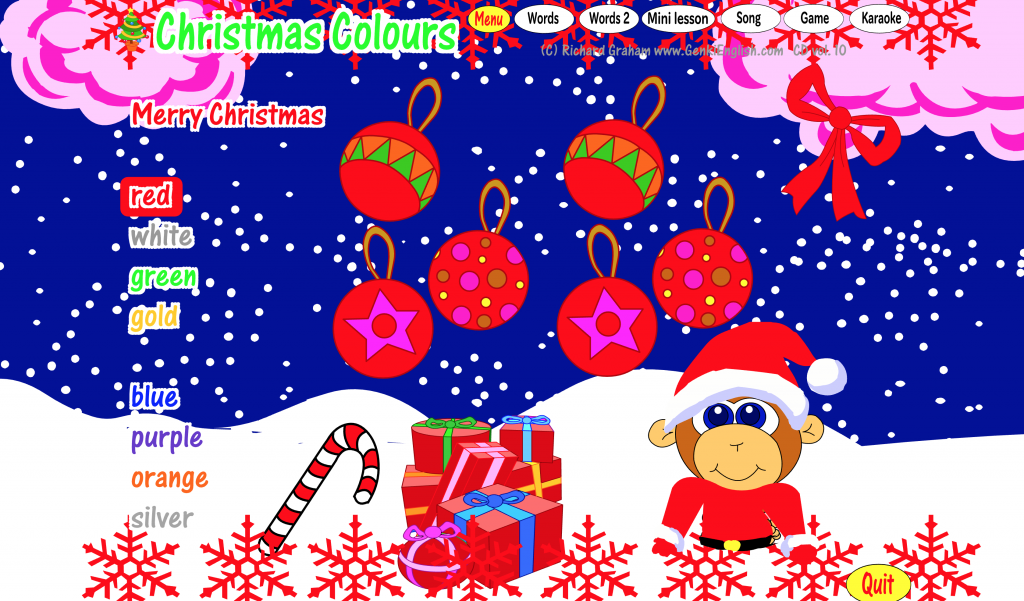 What colour is Christmas? red, white, green, gold, blue, purple, orange, silver
Where are the Christmas presents?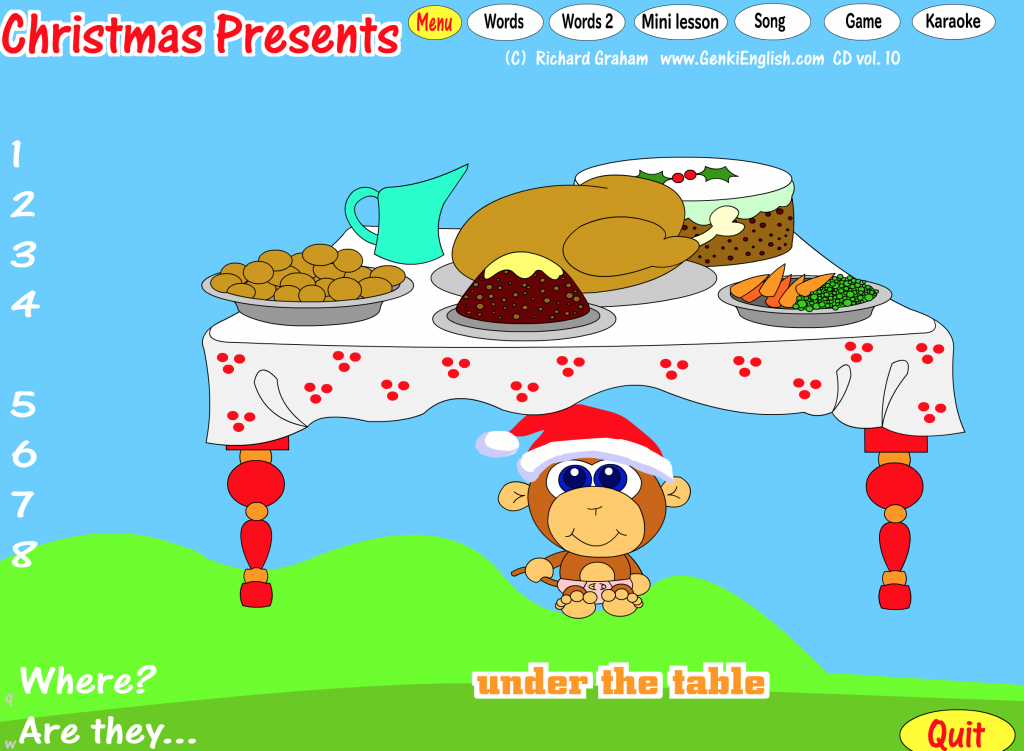 Where are the Christmas presents? Prepositions, Next to, under, on etc.
Lots of Genki Christmas words!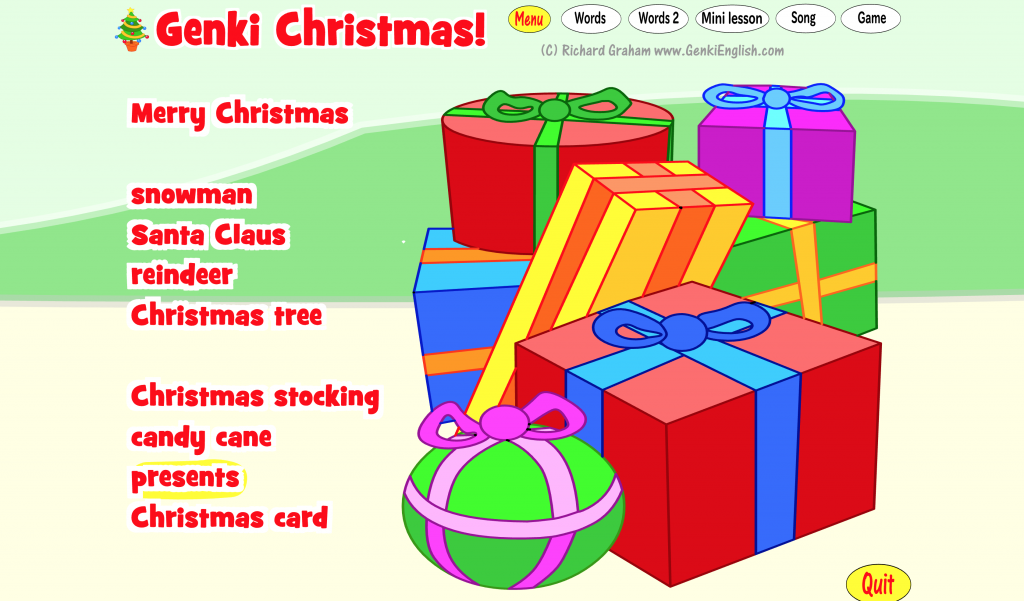 Genki Christmas snowman, Santa Claus, reindeer, Christmas tree, Christmas stocking, candy cane, presents, Christmas card.
Happy New Year!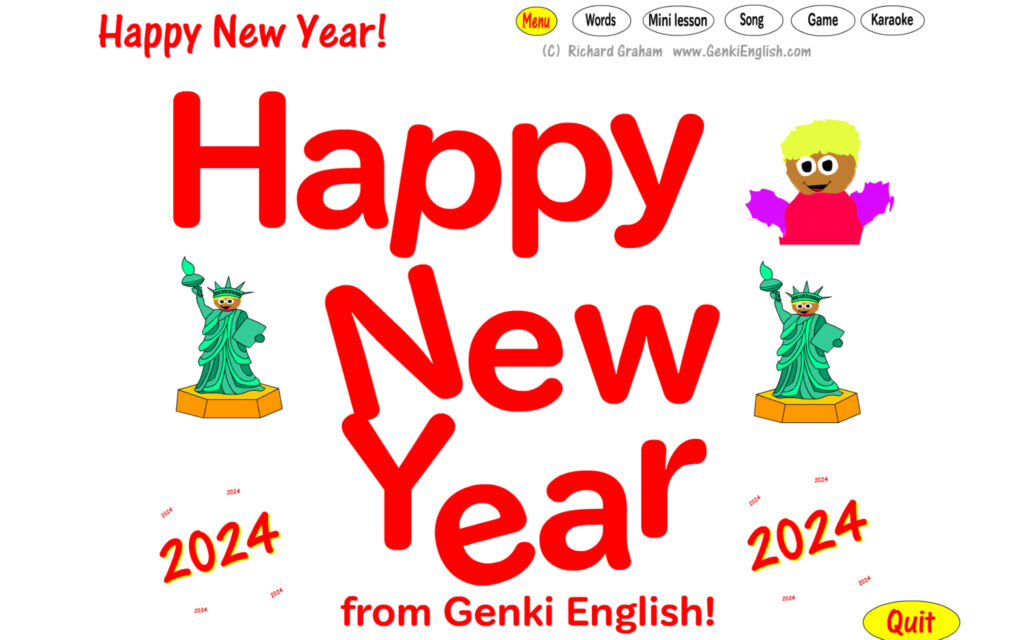 New for 2023 – Genki Cool Santa for teens/adults!

And for kids, Genki Christmas Adjectives!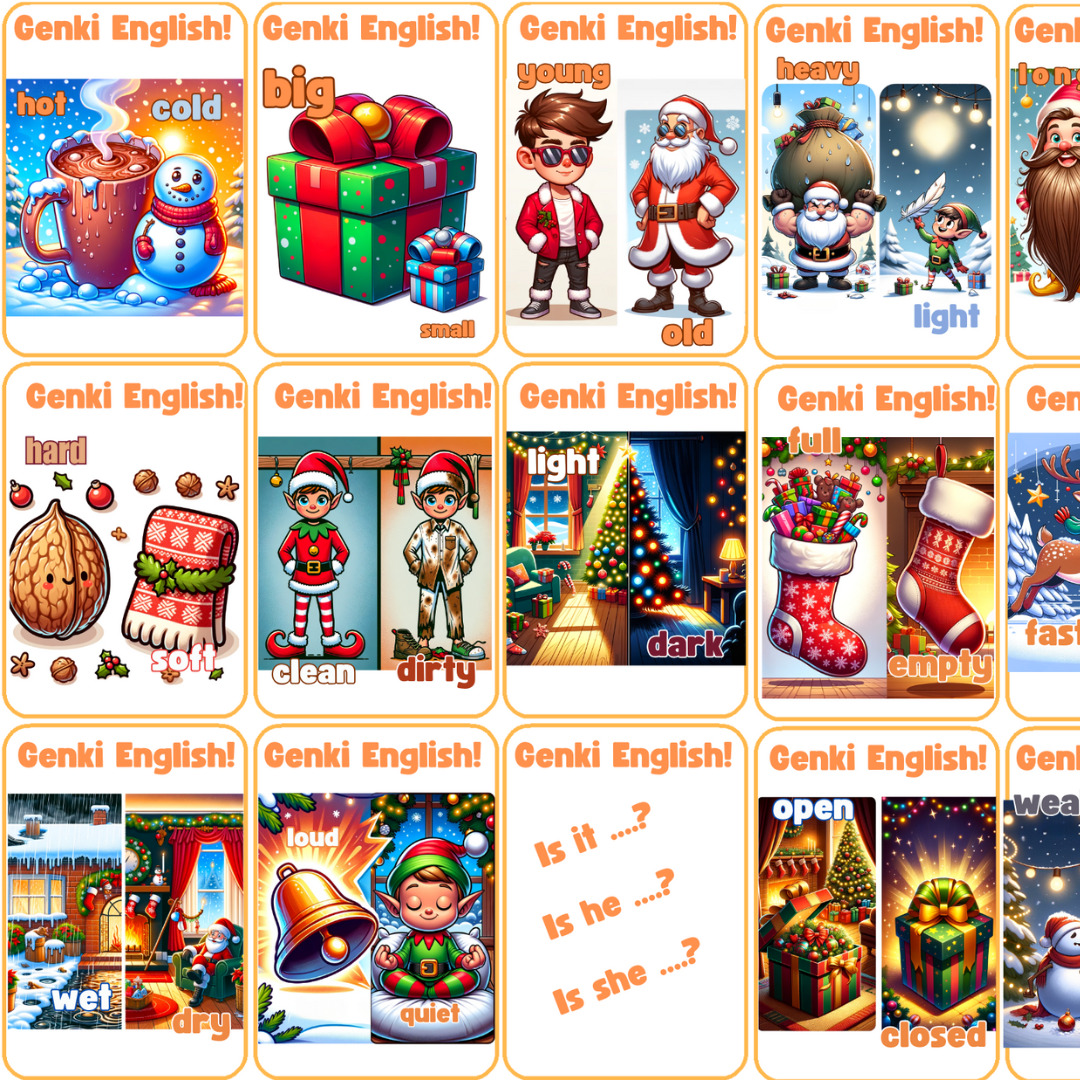 And "What do you do on Christmas Eve!" ✅✅ Sometimes ✅ Rarely ❌ Never

Daily Christmas Stories – Be sure to subscribe over on my Instagram!


Quick Genki Christmas Games!

Christmas Ho Ho Ho: 
Chant "Christmas, Christmas, ho, ho, ho!", then everyone mimes ( and says ) one of the vocab items from you're teaching today.  Anyone who has the same gesture as the teacher is out and sits down. Keep going until only 1 student his left!
 It's not for you!

Show a picture card  to a student. But if they answer they are out! The person next to them must answer. It sounds simple but for kids who are too used to flashcard games it's hilarious! (P.S. Eye contact is the key!)

 What's in the stocking?

Pack a Christmas stocking with either real presents or minicards.
1. At one end of the room one child holds the stocking and asks "What would you like for Christmas?"
2. The other kids, at the other side of the room, shout out things they think might be in the stocking.
3. If one of the items they shout out is actually in the stocking, the first child fishes it out of the stocking, holds it up and says "OK!"
4. All the other kids chase after him/her!
5. The first person to touch the kid with the stocking gets the present and the stocking.
6. Repeat from step 1

Christmas Snowballs.
Ask the kids a Christmassy question ( e.g. and of the questions in the full lessons below!). The winner throws a wet tissue "snowball" at a snowman on the board. Each body part is worth points.
Christmas Clothes Race:
Set up some (100 yen/ dollar store) Santa outfits. Everyone asks "What's he wearing?". You shout out "boots" or "hat" or whatever. The kids rush to the other side of the room and put on the correct clothing.
Poisoned Presents

This again uses the Christmas Minicards or the "What would you like for Christmas?" mini cards. This time you need a couple of sets and laminate them with backings so you can't see what they are when they are turned over. The kids turn one card over and say the word or phrase as they turn. But if it's the "Poison Present" ( which you choose before you start), they have to run and touch the nearest wall otherwise they'll lose all the Christmas spirit! It's a great way to mix brains and running!

 There is the "Reindeer Race Game"
 The Naughty or Nice Game for practicing "What would you like for Christmas?"
 Or use the Christmas Minicards to play any of the Minicards games.

 You can also do a version of the Ladders Game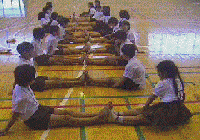 .
But you assign the kids as "Santa", "Snowman" i.e. the words from the song.
Then you can tell a Christmas story, and the kids have to run when they hear their word.
e.g

One Christmas, Santa ( 1st kids run!) was going to the North Pole.
On the way he met a Snowman ( 2nd kids run!).
"Hello Santa" ( 1st kids run again) said the Snowman ( you get the idea!).
"Hello Snowman" said Santa.
And off they went to the North Pole.
On the way they met Rudolph.
Rudolph was a reindeer.
"Hello Rudolph" said Santa and the Snowman
"Hello" said the reindeer.
And off they went to the North Pole.
On the way the Snowman said
"I think we need a Christmas tree!".
"Yes" they all said .
So they bought a big, big, Christmas tree.
And off they went to the North Pole.
On the way ….
Keep going and adding in new words until the kids are running like crazy. There isn't much talking here, but it's great listening practice and the kids really have fun!
Other Christmas Games

Christmas Delivery Game

Genki Christmas Workbooks & Printables

If you are a VIP member and have the Genki English Teacher's Set, you can also download all these amazing printables ..
Here is the VIP Workbook (What's this?)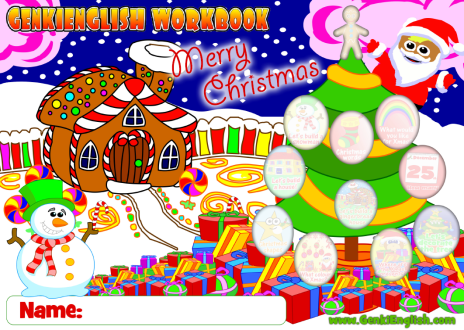 And for this year we have Amye's bumper book of Christmas activities for kindergartens or where you have lessons everyday: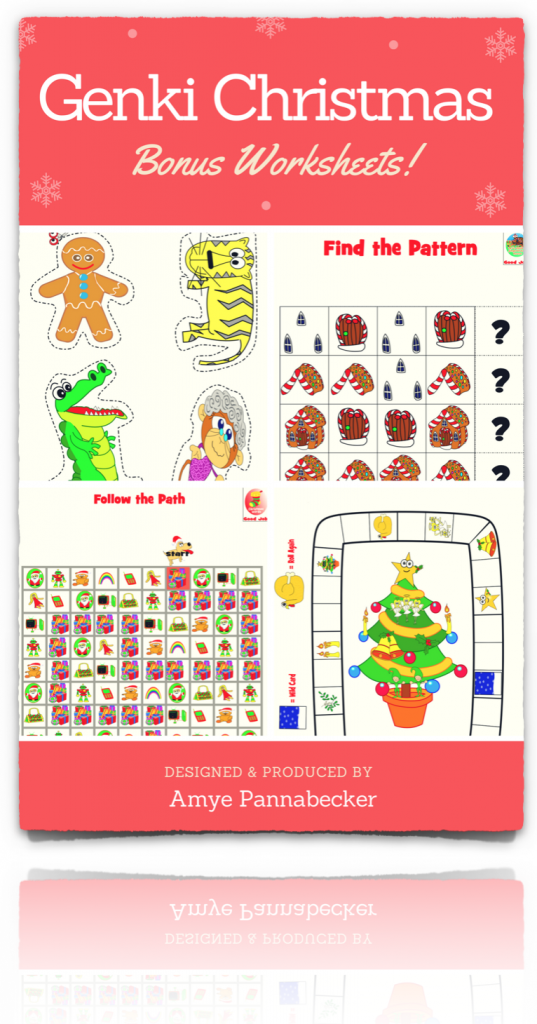 Spot the Difference
If you have a little more spare time, here are some Christmas Spot the Difference Games: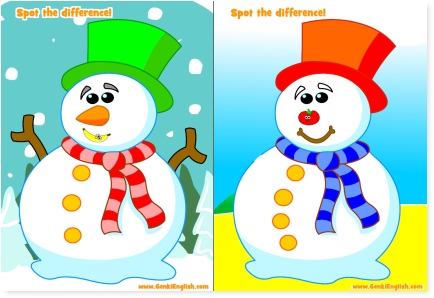 NEW: Squares Game: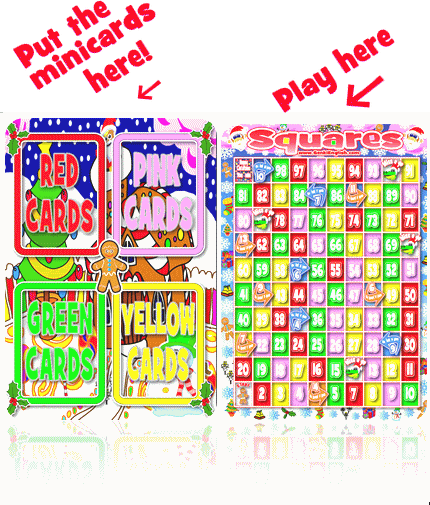 More printables
Plus VIP Members' Bonus Printables & Lesson Plans Ebooks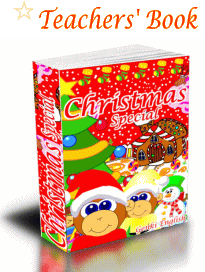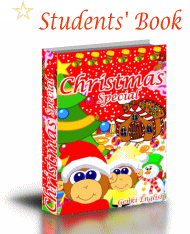 Imagination Worksheets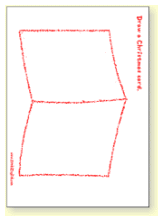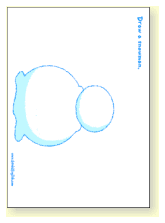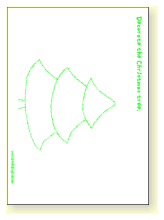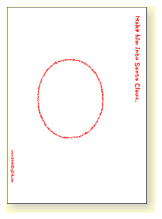 A few more ideas …
"We Wish You a Merry Christmas"
This is an easy song to teach. First of all introduce the greetings "Merry Christmas" and "Happy New Year" , from there it is a simple step to go through the lyrics of the song.
"We wish you a merry Christmas,
We wish you a merry Christmas,
We wish you a merry Christmas,
And a Happy New Year"
Even first years can do very well!!
For older kids, add in the verse..
"Good tidings we bring, to you and your kin"
and repeat the chorus!
When I was an ALT, I took my music gear into school and my 5th years played all the instruments, sung and produced their own CD!

 Christmas Cards
This is a very easy lesson plan. The kids simply design a Christmas card. You can even use it to introduce the spellings of "Merry Christmas" and their own names. Show them lots of different pictures beforehand (including photos of your own Christmas back home) and get them to draw one of the images they like! Also check out Aygo's Talking Christmas Card Craft Corner!

Advent Calendars
Many children in the West have advent calendars, where they open a door each day to reveal a picture (or chocolate) and count down the days till Christmas! It also makes a good lesson plan!
| | | |
| --- | --- | --- |
| | 1. Prepare a large (about A2 size) piece of card with 24 "doors" (about 5cm X5 cm) cut into it. Also have one bigger door for Christmas Day (Japanese kids usually don't get presents, and even have to go to school on Christmas Day, so a special door is much appreciated!) | |
2. Prepare 24 smaller pieces of card that are the same size as the doors.
| | |
| --- | --- |
| | 3. Give each child in the class one piece of smaller card. On this they must draw a Christmas picture. |
4. The kids who finish early can then go on to design the bigger picture for Christmas Day or the even bigger design for the front of the calendar (i.e. the large A2 piece of paper with the doors in it )
5. Take another large (A2) piece of card and put it under the other card. Now sellotape around the edges so both pieces are held together. Open all the doors and in each one glue one of the students pictures.
6. Close the doors and number each one from 1 to 25.
| | |
| --- | --- |
| | 7. Enjoy opening a different door each day until Christmas! |
You might want to do steps 5 and 6 yourself so as to avoid any fights about who gets what days (and to make it a surprise to see whose picture they well get each day!) If there are more than 24 kids in the class then start the calendar in November!
This is a really good activity that gets all the kids involved!

Plus keep an eye on the blog for lots more Christmas ideas every December!
Merry Christmas!