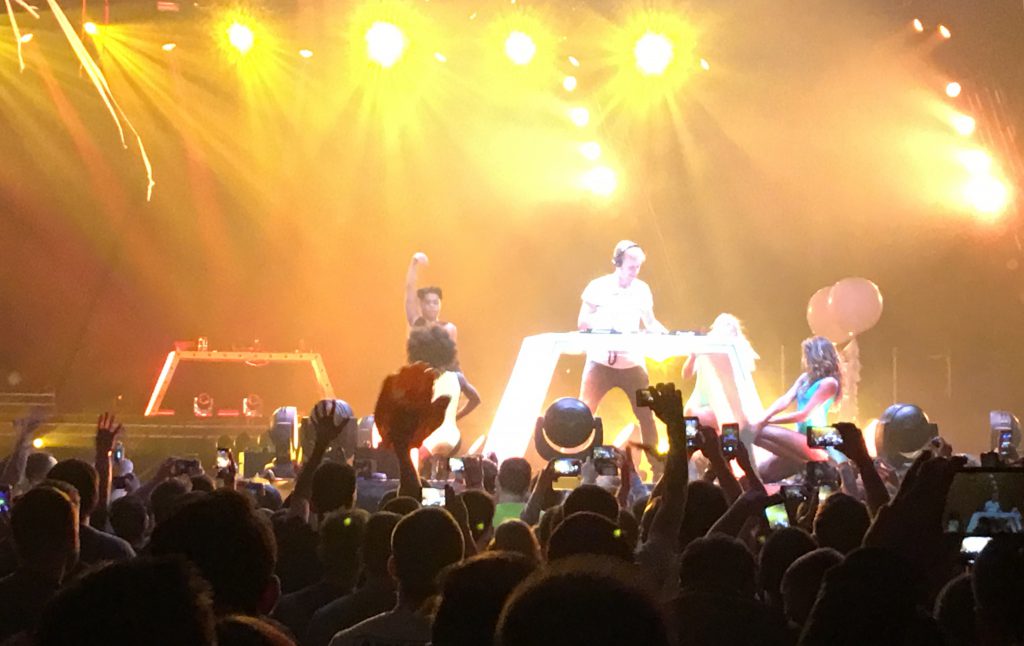 After two months of being held up in a hotel room working, tonight we went out to see Armin Van Buuren's new "Embrace" show in Kiev.
It wasn't earth shattering, I was expecting something totally next-level after seeing the Intense documentary on Netflix, but it was very good and certainly shows the power of a "show".
I think recently I've become too involved in the academic side of the Genki English, "What is the quantity and quality of vocab or grammar attained in one song?" "What is the duration of language retained as a correlation of the melody and production used?" ….
But really Genki English became famous because it is tons of fun.
Unlike most kiddie songs which are really designed for close quarters listening or settling kids down, Genki English was designed to invoke the community of moving and singing together as one, getting the energy from sound and movement and images all moving together. It really is the essence of being human, having this emotional experience shared together from rituals and parties in Africa, to obon festivals in Japan, to Wedding receptions in Ukraine.  Where humans meet we want to move, sing, dance together.
And of course that is how human knowledge, skill and culture has been passed down from generation to generation for millennia.
So this is what I learnt today ……
Make your whole lesson, and especially the Genki English song, into an unforgettable event. Be the rockstar you know you are. Prepare the students before by pre-teaching the language, the mini lesson to pre-teach the song and then really build it up before you sing "Ok, we're going to do this song now, do you think you can all do it?" Get them hyped. Enjoy it. Get into the moment. Don't be scared. Let it go. Enjoy! Then end with a huge applause. And savour the atmosphere afterwards of having achieved and created something amazing together.
Make the tech so perfect it disappears. The tech is there for a reason, to facilitate the human emotion. Don't strain to hear the sounds or crane your neck to see the screen. Invest in some high quality sound (which means it doesn't have to be so loud) and a big TV for your class. Make the tech disappear.
It doesn't matter how old you are. I get so many teachers saying "my teenagers don't want to sing" What a load of rubbish! Tonight Armin had us sitting down, standing up, waving our arms, clapping and cheering, basically all Genki English stuff! One of my biggest memories of Africa was the janitor joining in our after-party. I've no idea how old we was but he was busting his moves like the best of us. These are all millennia old human ways of communicating from babies, to adolescence to old age. The expectation is in your head.
The hits count! Sometimes I can get a little frustrated with people saying "we do disco warm up, left and right and superhero in every lesson. The kids love it!" After spending so many months in the studio I think "Yeah, but why not try the new songs too? " But the fact is that the hits matter. Unlike Avicii or Rhianna, Armin van Buuren doesn't have that many hits. But when he plays them the crowd goes crazy. So be aware of the hit songs, don't play them all the time, but keep them for when they become most powerful!
Tenacity matters. Armin has been doing State of Trance for 16 years. I've been doing Genki English for 20. It doesn't happen overnight. So stick to it. And enjoy every minute.
When you have the emotions and energy the learning takes care of itself. And that's what Genki means, it's the Japanese word for exciting, energetic and full of life.
Harvard have taken care of the academics, the music takes care of the emotion, so make your next Genki English lesson, and especially the genki song, into an unforgettable event. A memory to treasure. It's how humans have been learning best for generations. And it's a whole lot of fun.
Or of course if you just want to teach robots, stick to the textbook 😉
Be Genki
Richard