So today was the big day to to see if this really does all work in Mafia schools!  Well, we know it does as it worked last year, but I hadn't seen it myself yet, and most importantly neither had any of today's teachers – some of who were still skeptical that it would work!
And they were terrified! I hadn't told them who I would pick to do the lesson and they all had to prepare every lesson. Which was a lot of stress (for me too!) and they were complaining I was being too hard on them! 🙂
So we got to the school, the solar power was on, the computer was set up, the kids came in and off we went!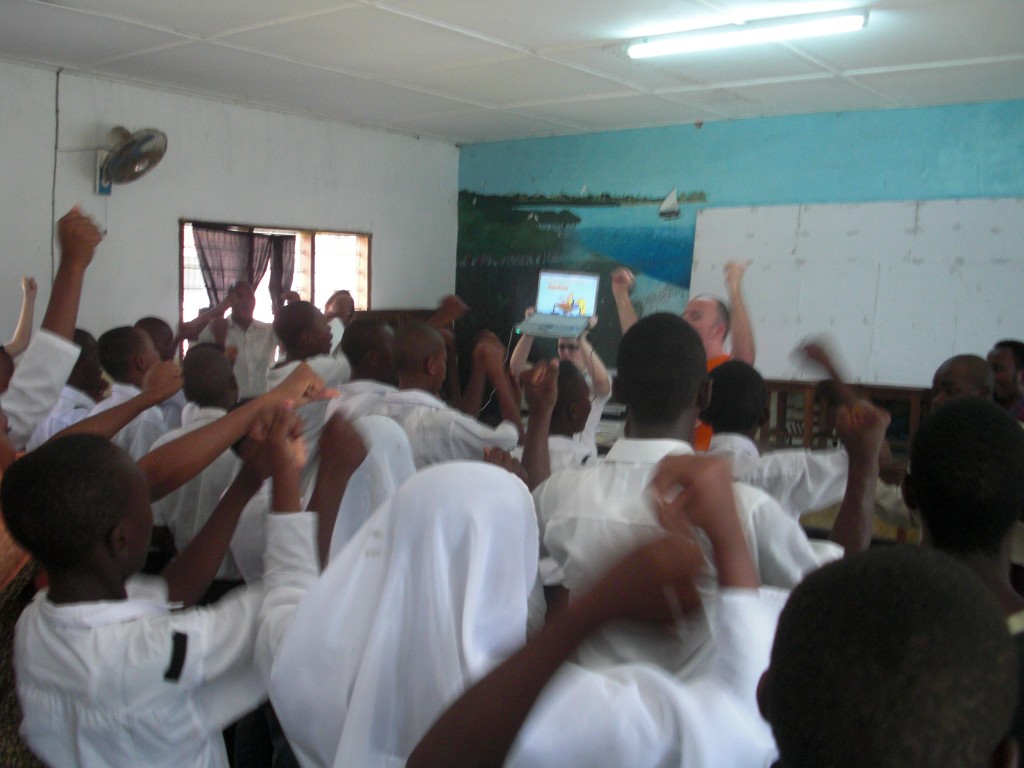 I figured I'd start off with the Warm Up just in case the kids were a hard bunch – this is first grade high school after all!
But they were cool!
Even with no swahili from me they were doing the motions, being nice and loud and getting everything done. I asked them "What's your name?" and they could answer (ish) so went into the What's your name? song so that all the teachers (who outnumbered the students!) could get a chance to participate with the kids.
And then came a power cut! But as there were so many teachers who knew the song, we just did it acapella and it worked great.
OK, now the real test, to hand off to the Tanzania teachers to see how things would go…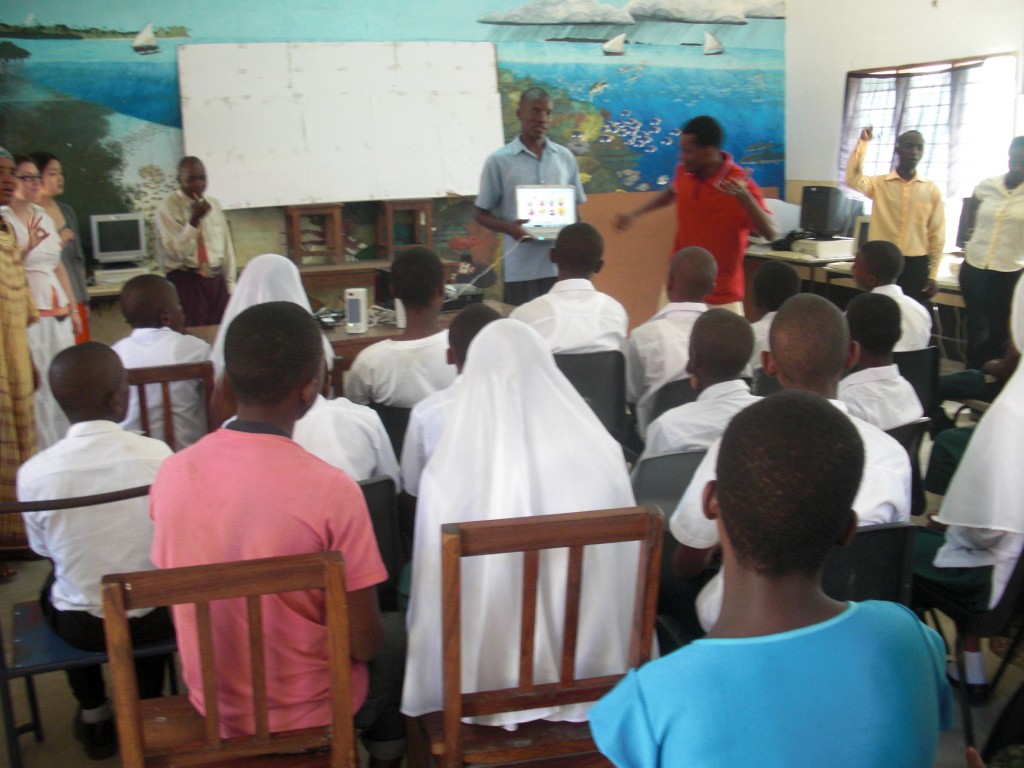 I chose the lightest spoken of all the teachers to set up and facilitate the How are you? computer game. We're doing the computer games first here, before the songs, to take the pressure off the teacher.  And it worked great.
Then we have to check the meanings and add gestures. This is tough if you don't speak Swahili. But the local teacher who did it was amazing, even genkier than me!!!
Then another teacher to do the song, and they were fantastic.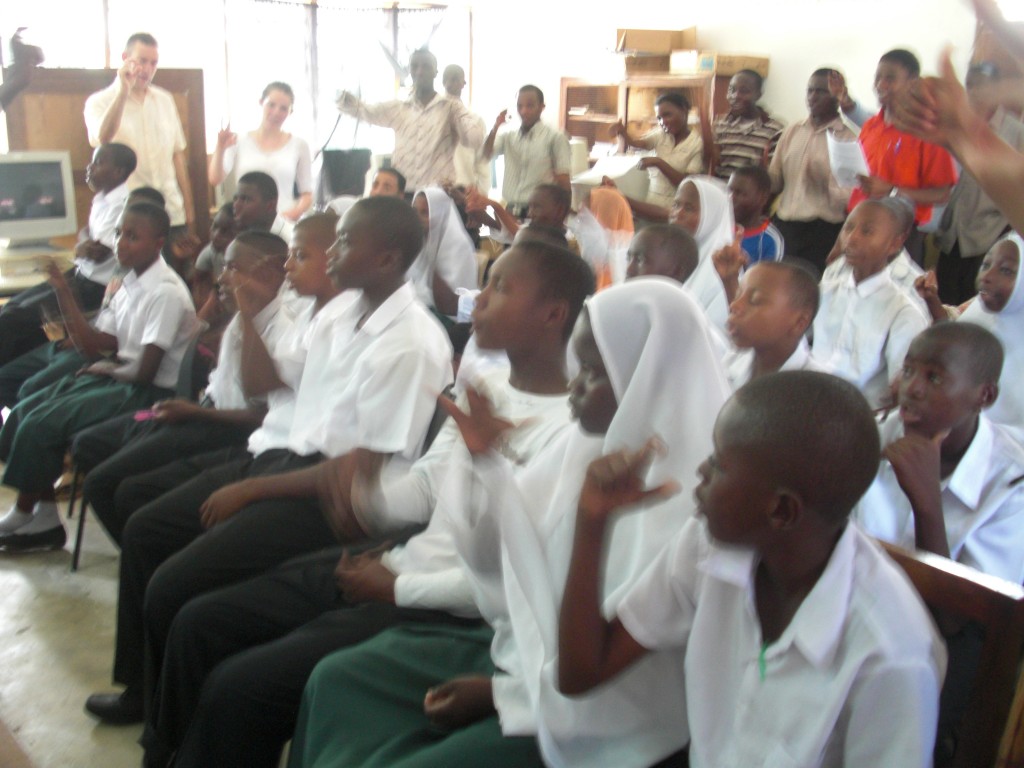 Next the class game, and the teacher I picked couldn't do it. But I told him he could grab another trainee to help, so he did and off he went, to pick loads of them!
And I was so impressed with the kids. In any other country having such downtime whilst the teacher was unsure would result in chaos. But not here! (Guesses in the comments as to why that is!) Plus the kids coming to the front to be the monsters were so confident. They stood there in front of all these guests, on the first day of school, and just did it really well.
Then it was the Superhero song. The Tanzanian teachers had been using a ton of Swahili (L+1 afterall) so I figured I need to show something to the US teachers on how to do it with very little Swahili. And again, it worked really well.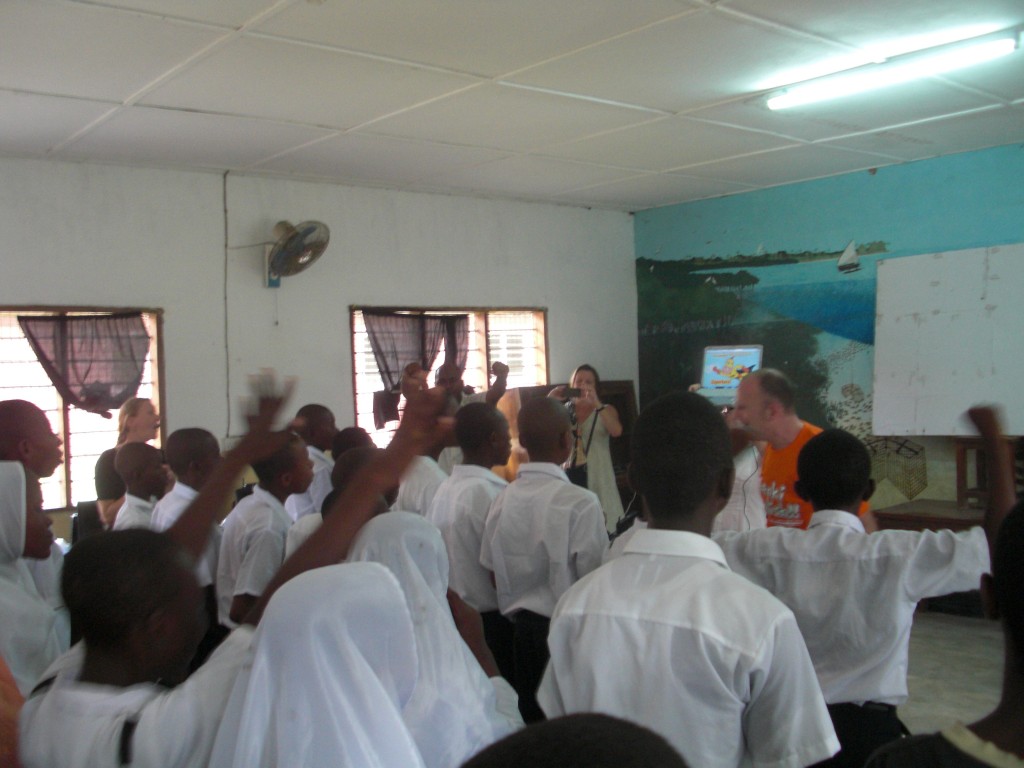 The kids did actually know some of the vocab, so afterwards I thought that maybe we've pitched this whole thing too low. But after all the cheers, smiles and looks of "wow" on the head master's face ("this will help bring more students to school next week", he said) they asked if the kids had learnt anything new today. And, to my astonishment, kids started putting their hands up and saying things such as "I'm great", "I'm sad", "Superhero", "Swim" etc. I've never seen that before, usually it's always a case of "errrr, don't know".
The best thing of all though were the girls.  As I'm sure you know teaching girls is a really high priority.  If you teach a boy he'll usually go off to the big city to earn his fortune.  But if you teach a girl she'll teach a whole family.  And today the girls were so into it.  Even the ones right at the back.  And they especially loved the computer games.  That made me very happy.
And it's great now the pressure has gone – I've seen myself it really works here!
But tomorrow, the doubts creep in?