Lesson 4: How are you?
Lesson Plan Part 1: Warm Up & Review
Review all the English from the Genki Disco Warm Up Lesson, rock, paper, scissors, practice "What's your name?" plus review the What's your name? song


Lesson Plan Part 2: Input with new language & song
Toady is all about positive language. Our words make our world so we finish the lesson with lots of super positive emotions!
To get all the students involved be sure to use gestures for all the phrases e.g.
"I'm hungry" (they pat their tummies)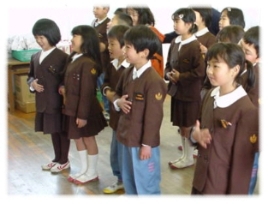 "I'm tired", (they go to sleep!)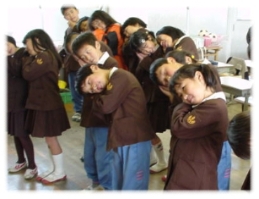 "I'm cold", (they shiver)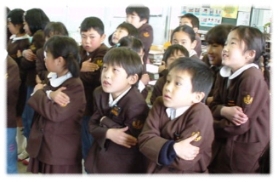 "I'm sad" (they pull a sad face)

"I'm happy" (a big, smily face!)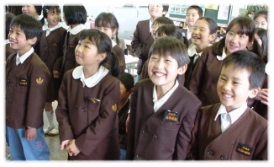 "I'm great", (they throw their arms in the air!)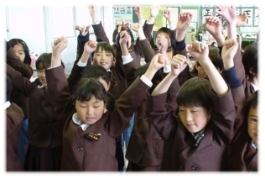 "I'm good" (thumbs up!)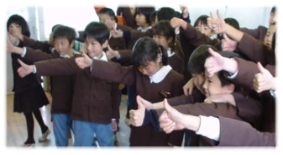 "I'm OK!"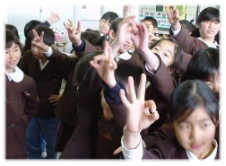 And in the chorus you can have them lined up singing one line each: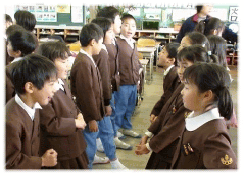 Check out Margit's kids enjoying the song!
Lesson Plan Part 3: Output with the How are you? Monster class game
Either online or offline,  indoors or outdoors, this is one of the best Genki English games – the How are you? Monster Game.
Check out the students in Tanzania:
⚡️Online Teaching Tip:   Get the kids to stand back at least 3 or 4 steps (or strides if possible!) behind the camera before you start!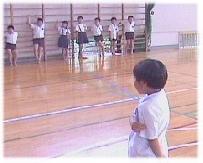 1. The students all line up at one end side.
2. Explain that this side of the gym is the "safe" side. But they really want to get across to the other side, where there is a sweet shop which today has a half price special offer ( this gets the kids very excited!).
3. But, in between the kids and the sweet shop is a monster! At first the teacher is the monster. Ask the kids to guess what your favourite food is. They'll shout out some foods ( nice practice!), then you say that your favourite food is human! ( Even bigger reaction from the kids!)
4. Tell them that they can only cross to the sweet shop if the monster is in a good mood and isn't hungry. Ask them how they can check on the mood of the monster. After a moment a few kids will say "Ask him/her "How are you?""
5. All together the kids ask the monster "How are you?"
6. Do a few "I'm sorry?"s to get the kids to shout in big loud voices ( so that all the kids join in, not just the super genki ones!)
7. The monster says an answer, e.g. "I'm OK".
8. The kids repeat the answer ( important practice!) and move forward one step ( no jumping allowed!).
9. Repeat from 5.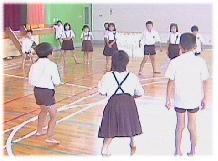 10. But if the answer is "I'm hungry!!", the kids have to run back to their safe wall! Any kid who is tagged on the way back becomes a monster for the next round!
11. Play again!
Or here's another video explanation in Japanese with English subtitles:
Homework
If you have flipped your classroom with the digital Genki homework then set the next lesson "Superhero" as the homework for next week.
Or if your students have Tik Tok you can tell them to check out next week's lesson, "Superhero",  here and review today's lesson here:
"How are you?"
by Richard Graham
Hello, how are you?
Hello, how are you?
Hello, how are you?
Hello, how are you?
I'm hungry,
I'm tired,
I'm cold,
I'm sad
(Repeat Chorus)
I'm happy
I'm great
I'm good
I'm OK
(Repeat Chorus)

Bonus VIP Printables
If you have the Teacher's Set you can also download these extra printables
Gumby has made this great video of how to make an 8 page book out of one piece of paper!
And being such a nice person she's also done a ready made print out for you to try!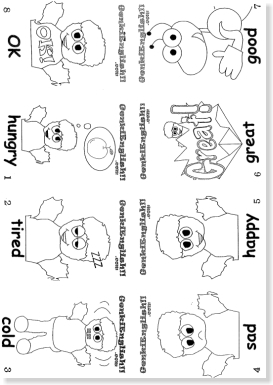 A4 Flashcards
(What's this?)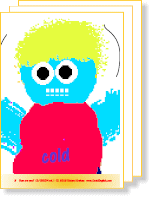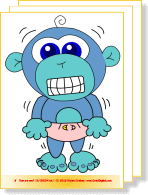 Mini Cards
(What's this?)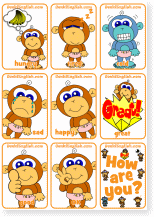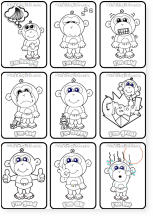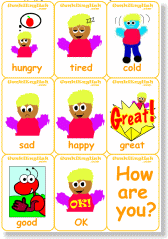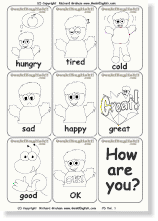 Printable
Lesson Plan
(What's this?)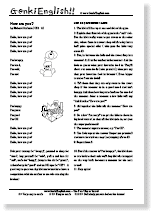 English

Japanese
(give to class teacher)
Dominoes
(What's this?)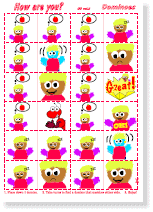 Dice Game
(What's this?)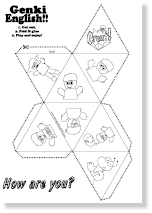 Spaghetti Game
(What's this?)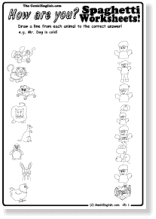 Islands Game
(What's this?)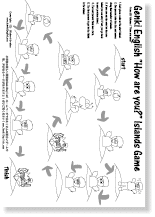 Snakes & Ladders
(What's this?)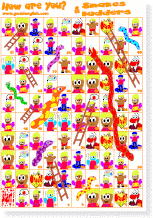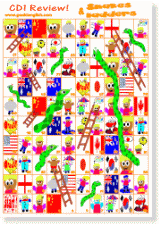 Imagination Sheet
(What's this?)