Welcome to Mido Farid's game of the week.
It's perfect to try with the Treasure Adventure lesson – with a touch of danger!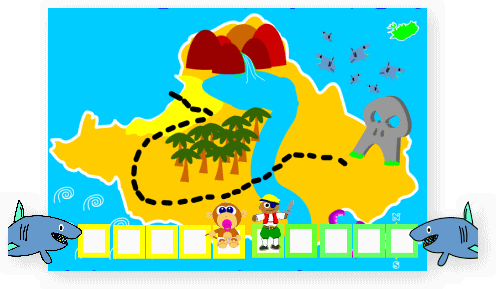 1. Draw a Treasure Island (or use the map picture card) on the board and ten squares underneath it.
2. Draw a shark on either side of the island.
3. Divide the class into two teams.  One team has the squares on the left and the other team has the right squares.
4. Place a magnet for each team on the middle squares.
5. Ask the first two students of each team a question using today's English (e.g. Getting the kids to say "There's a …." or asking "What can you see?" whilst pointing to a Treasure Adventure picture card) and if they answer correctly they rock, paper, scissors.
6 . The loser moves their magnet to the next square – towards their shark's mouth!
7. Keep playing till one team's magnet goes inside the sharks mouth!
Of course the best exercise for Treasure Adventure is to get your kids to draw their own pictures of a Treasure Adventure and present it to the class using the lyrics from the song!