Margit put up a request on the Wishlist forum for Summer Clothes mini cards but with one thing "forgotten" from each one, so you can use them to practice "Don't forget your …. "
As I was just in the process of making the minicards they were a very timely request. Here you go, enjoy!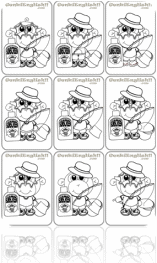 (If any you have any requests for extra materials then right now is the time to ask whilst I'm making up all the extra cards for vol. 11 Just put up a request on the Wishlist forum! )
Margit's kids are also pretty far through the Genki Phonics course – up to "oa" well done! – and she has sent in these great reading worksheets for the Summer Clothes theme!
(Of course please * don't * try these unless the kids have done proper phonics, we don't want to kill all that hard work you've been doing!)
If we were to make more of these types of worksheets, what sort of things would you like?