To be a bit more constructive today I'm going to start a series of three posts on what to do in the first lesson of the year. ( Quite a few countries start their school year this week). The first one today will be the number one super best lesson lesson I have, but you need to be able to speak the kids' language to make it work. Tomorrow will be some ideas for if you don't speak the kids native language and then I'll have some ideas and things for Junior High School.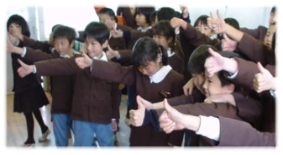 So, what's my super number one lesson for new teachers?
Well… first off you do the Warm Up game to get the gets nice and genki.
(And the Disco Warm Up Song if you are lucky enough to have invested in the  Teacher's Set.)
Then if you look at the curriculum you'll see I have Rock, Paper, Scissors and What's your name? as the next lessons.
But what if you don't have the Genki English Teacher's Set yet?
In that case, without a doubt the best lesson is the How are you? Feelings song followed by the How are you Monster game. ( That's the reason I chose this as the freebie song for free Ninja Tips Email Course.)
It works amazingly well, the kids get some really useful language and they continue the game for the rest of the day. The only drawback is you need some Korean / Chinese / Spanish etc. to be able to explain the rules of the game to the kids.
Ninja Tip: If you are teaching in Japan though, print out the Japanese version of the game and the class teacher can explain it.
Once you've had a bit of practice ( say teaching it to 4 or 5 classes) you can finish it in 25 minutes or so and in that case I'd really recommend the Rock, Paper, Scissors song between the Warm Up and How are you? This way you can set down all the rules of the classroom e.g. losing means "try again", "I can do it" and general classroom management. I put up a video in the VIP owners Club to see how I do this.
But for now, if you're still not sure if you want to make the full jump into Genki English,   just stick with the free How are you? and the Monster game and the kids will love English for the rest of the year!