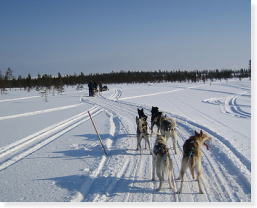 Yes, I just found out today that the town I'm in is Swedish Lapland. Which does sound very cool. Apparently they have more snowmobiles than cars up here, as well as ice roads across the sea and the famous Ice Hotel nearby.
I'm up here because Northern Languages are introducing after school clubs based on Genki English. This evening we had a taster session for parents, and a few teachers. After a little warming up even the usually serious (as I'm told!) Swedish parents were singing the Genki Disco Warm Up, How are you? and the Thank You song and playing the How are you? Monster game and were happily smiling away. I couldn't explain as much as I usually do for parents workshops, but they seemed to get what it was all about.
The rest of the day had been going through the GE curriculum with Melinda, the owner of Northern Languages. With all the materials spread out across the site it can be difficult to figure out exactly how to make a full programme out of Genki English and Melinda was having this problem.
Probably the easiest thing to do in that situation is to download the Lesson Plans Book and follow the order and suggested games that are in there. Once you've done each lesson a couple of times you can also have a look at each theme's page to get some more ideas that may work better (or worse!) in different situations. The Online Video Workshop is also a must.
Flexibility is a big part of things, for however well we plan, lessons involving kids hardly ever turn out like we imagined. (And I find this out tomorrow!)