If you're getting geared up for the big final this weekend,  here's a great printable game from Hugo to go with the Come on, Come on lesson!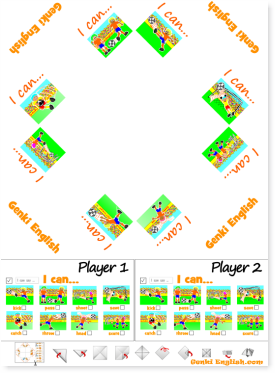 Here's Hugo's video explanation of how to play it:
1. 1st kid says a number.

2. 2nd kid counts while opening/closing the origami

3. Then the 1st kid chooses 1 "I can.."

4. The 2nd kid opens the origami and the first kid says what they can do.  If the two match he/she gets a goal!
Hugo also has a How are you? version.  If you'd like to see it, or have them for any other themes, then do let us know in the comments!
And just in case you haven't tried the song yet,  here's John's amazing kids in China – just look how fantastic they are!
Again if you'd like to see more videos of John's kids then do let us know in the comments!
Be genki,
Richard