Here's a quick worksheet to go with the Gingerbread House lesson and inspired by Flossy's Daughter's Matching Snowmen worksheet from last week:  Gingerbread House Matching Game.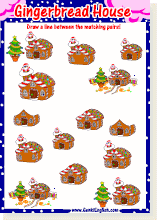 VIP members just click the link above to download.  If you're not a member yet,  buy your Download Pack today and you'll have access to all the 100s of  downloads!
And the winner is ….
And I've only just realised I hadn't picked the winners of the last two month's comment competitions.  The winners are ……. for October Flossy (seriously it was all random!) and November was Gumby.
Let me know which current (or future!) CDs you'd like.
If you'd like to be in with a chance of winning a Genki English CD yourself, then get commenting on the blog, I pick one at random each month.
Another chance to win
Plus this month I'll also be offering another CD to one random comment on any of the songs pages.  So pick your favourite themes, tell us how you teach it and  maybe you could be getting a free Genki English CD!
Be genki,
Richard