Erika wrote in to ask:
How do you evaluate your students? Do you use self-evaluation?
Hi Erika,
Thank you for the question and the great case study!
We do several types of evaluation.
For the full on research programmes  we interview every student at the beginning of the course, again half way through and then at the end:
This is an example of the tests we use:
University  researchers then analyse the data.
For reading and phonics we also use the Burt Reading test.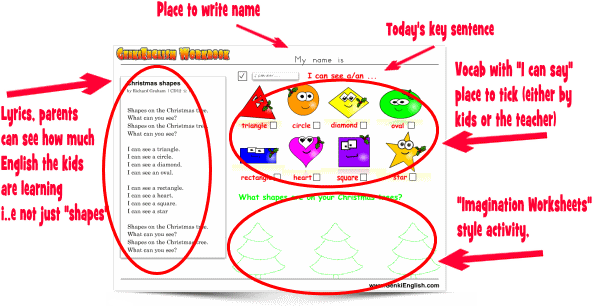 Or for less formal classes a lot of teachers use the new Workbooks that have "I can …" boxes that either the kids, parents or the teacher can check.
Personally I like the parents to check them, it keeps them up to date on what your are doing at school.
Or you can simply use the "Secret" warm ups to get a more holistic feel if you like:
Do any of those help?
If you have any techniques you use, please write them up in the comments!
Be genki,
Richard
P.S.  Here's the case study Erika sent in.  Do you have any noisy classes?
Well, I got a very noisy class last year.

All my colleagues, including me, had problems of motivation, attention, behavior during the lesson. So I decided to try Genki English.

At first my students looked at me as if I was an alien using strange methods, but they liked this.

I can't say I didn't have any problems after trying to use this, but my students liked my lessons.

Even the worst ones got interested into learning English.

So I am really happy about that.

I also recommended Genki English to my colleague at work.

She is also happy with the results.