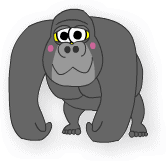 Christopher wrote in this great little idea to go with the What do you want to be ? theme:
I find adding a couple of bonus occupations is good as a follow-up.

I want to be a gorilla is a good way to perk up 6th grader classes in the 3rd semester!
Gorilla pictures can be found in the Do you have any pets? theme! ( Oh yeah, they make great pets, once house trained! )
UPDATE: Christopher has also sent in his suggestion of using "Dream Basket" – a variation of "Fruit Basket" with the cards:
1. Keep a set of about 6 A4 size flashcards in your hand, such as rockstar, florist whatever. I found putting "gorilla" in gets 6th graders genki.

2. Show a card to each student in the circle, have them remember it in sentence form: I want to be a gorilla, florist (boys are amused by this) etc. That is their game role.

3. Then you start things off as the oni – devil – in the centre.

5. You answer with a dream you have chosen from the cards in your hand.

6. The kids with that dream have to change seats.

7. If a kid is the "oni" 3 times, have them do a batsu – penalty- game, imitate a comedian, whatever.

If tears look like they`re coming on, invite another student to join them.

8. Saying "Dream Basket" gets all the kids moving seats.

9. Keep your A4 cards visible to the "oni" in the middle so they can choose what to say next.

That`s it really, a good 10-15 minute review game.