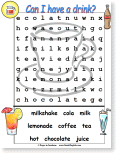 Jamie has sent in this great idea for Junior High or older students:
——————————————————–
If you have students that are acting out or bored because they are just too fast, or you just want a fun activity. Try this.
1) Put the students in pairs and give them a blank gridded worksheet.
2) Get them to think of a title (preferably something they have been doing in class). e.g. sports
3) Ask them to think of up to or more tham 20 words to do with that subject. e.g. football, rugby,  curling…..
4) Ask the students to write the words in the grid, going up, down, diagonal and even backwards.
5) Fill in the grid with random letters to hide the words.
6) Swap worksheets with another pair and try to find their words.
Believe me I have rarely seen my class so focused and competetive .
GREAT TIME!!!!
HAVE FUN!!!!
—————————————————–
Thanks Jamie,  what do you think?
If you have any great ideas you'd love to share, please send them in!