It always pays to have a few "Swiss Army Knife" backup songs and games available for when (inevitably) something goes pear shaped in class.
My keep-in-reserve songs are Disco Warm Up, How are you? (VIP members, check out the new Baby Monkey  How are you? cards!) and Superhero.
And for my never-fail-even-works-with-any-high-school-class-or-adults ….. this is my go to game!
1. Put the kids in groups.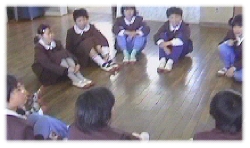 2. Each group makes a circle.
3. The first person in each group asks the person next to them today's question ("What's your name?, What's your favourite…?, What do you think of…? etc.)
4. That person answers and asks the person next to them.
5. When you get round the circle and the first person ends up answering, everyone throws their hands in the air and shouts out "Yeah!"
6.  Fastest team is the winner ( + cue looks of astonishment from the other groups!)
Dead easy, but it always works, it's my number one game for junior high or any age group.
Of course you can then teach Genki English rule no. 2 "Losing just means try again!" and keep going.
Here's a video of the game in action ( plus a load of extra hints and tips and just ignore my German accent!)
And here's a video of Val in Argentina's kids doing it!
The kids love it!
So…. what's your top go-t0-in-an-emergency-never-fails game?