Here's this week's game from Mido.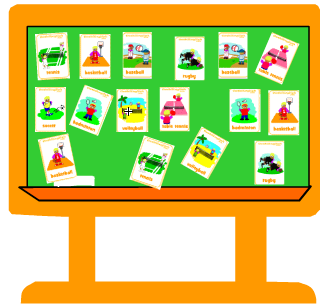 1. Β Put several (at least 3 of each) copies of today's minicards all over the board.
2. Two kids come to the front, facing the class.
3. Everyone in the class shouts out today's question e.g. "What sports do you play?"
4. The teacherΒ choosesΒ one student who answers with one of the answers on the board.
5. The two kids at the front quickly spin around, face the board and circle all the minicards that have this answer!
6. Total up how many each team got, bring two new kids to the front and repeat from step 3.
Obviously the more cards, the more fun, and an odd number of each card always adds to the competitiveness! πŸ™'
What do you think? Do let us know in the comments!
P.S. There are more of Mido's great games in theΒ VIP Games section.