The reaction to the song has been so amazing, and you have all been so fantastic with your feedback & support throughout the year that I decided to put the new song up on Youtube.  I hope you like it!
And I haven't forgotten VIP members either, there's a high definition version of the video that you can add to your software!
1. Safely back up your Download Pack / USB ( because you know *something* will go wrong somewhere!)
2. There are 2 files for this. Right click each one and select "save as"
XMASDAYS.SWF  and CD10MENB.SWF
3. Copy the files into your Download Pack / USB folder (overwriting the previous version)
Now when you click on the Pink Christmas menu you'll have another icon for the "How many days till Christmas?" song!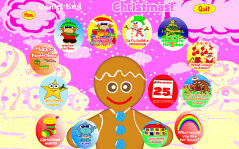 Thank you again for everything, I hope you all love the song and do please share it and like it on Youtube!
Merry Christmas and Be Genki!
Richard
P.S.  Just added mini cards too!