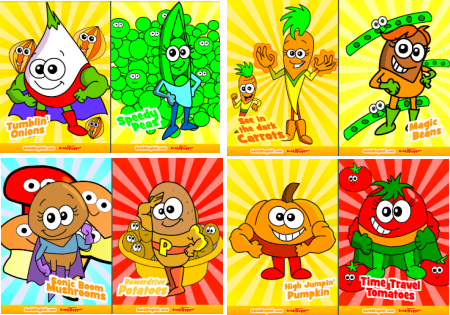 Dacha has just sent in this fantastic idea to with the Superhero Vegetables lesson.
1. First of all teach the Superhero and then Superhero Vegetables songs.
2.  Now get the kids to come up with super powers for the veggies that don't already have them.
Ninja Tip:  You could also add in the fruits here!
3. The kids then decide what super powers they'd like to have.  Time travel?  High Jumpin'? See in the dark?  They choose!
4.  Now the kids make up real smoothies using these vegetables!!
5.  Get them to also make up the recipe to take home, show their parents, eat every day and let's see which powers come true!
Pretty cool, eh!
And you know what, along with meditation, having a (particularly green) smoothie every morning is something you see in just about all highly successful people.
Give it a try, you never know what will happen! 🙂
Be genki,
Richard
P.S.  Ninja Tip:  Of course you use ice in these smoothies along with the veggies,  no ice cream allowed around here! 🙂