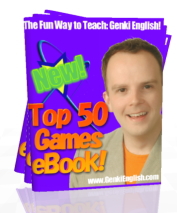 The Top Ten Games eBook (which you can get free by subscribing to this blog) has proved really popular with 1,000s of downloads.
Over on the forum I was asked if I could make another book with many more of the Genki English games. Well, here it is my Top 50 Games eBook!
It's chock a block full of all my favourite games, and whilst they are not all as effective as the main games I introduce in the Lesson Plans Book, they are all really fun and almost guaranteed to brighten up your students' day!
I was considering making it a paid for download, but then figured I might as well put it in the Owners Club for you. If you do appreciate the work I've put into it then please tell a couple of colleagues about Genki English and that would make it all worthwhile.
This is the first draft and I haven't had it proofread yet, so there might be a few mistakes or if there are any thoughts or things you'd like to see added or changed then be sure to write it in the comments below!
What do you think?