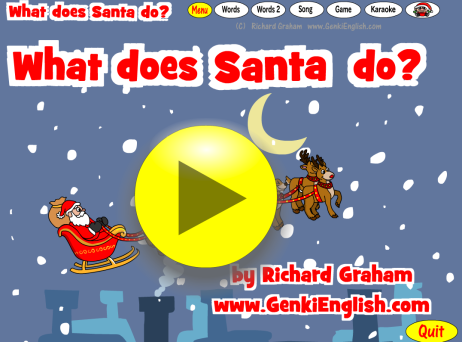 Wow I wasn't expecting either the What does Santa do? lesson nor the Christmas Avatars to be quite so popular –  thank you for all your great messages!
Great feedback always gets me extra genki, so due to popular demand I've just made up a picture book for the Santa lesson!
And VIP members can download the  printable What does Santa do? Picture Book pdf here.
This time I didn't include a funny ending, I just wanted to keep the Christmas Eve feeling.
But you never know, I might just add one in the future! 🙂
If you're not a VIP member yet, then what are waiting for, get your Teacher's Set and join us now, you are going to *LOVE* it! 🙂
Thank you VIPs!
As always,  as you are all so great in giving me feedback on how the new lessons go in the class the new songs and software are free to VIP members whilst we're testing them.  Once they're finished they'll be a paid for update for everyone to enjoy,  but if you've got them already you'll have nothing else to pay.  So get them while they're hot!
OK, I must be crazy launching so many new things just before Christmas,  but I know you all like bright shiny new things, so hope it's a nice Christmas present for you!
Take care and enjoy!
Be genki,
Richard
P.S.  If you have any problems with the updates – or indeed just like what you see! – then do pop them up on the comments and I'll try and get back to you as soon as I can!
P.P.S.  Some of you might have seen a "Ninja Surprise" version of this on email.  Yeah, that didn't work! 🙂   I'll try it again next year!