This school is also trying out the $100 laptop "buy one get one free" scheme where people in the US buy one machine and another is donated to places like here in Cambodia.
Yesterday I had a look at and to be honest I wasn't too impressed. "Laptop" probably isn't the best way to describe them. They are more like the LCD computers we had as kids, and when you look at it like that way they make much more sense and become a great learning tool. The best thing today was that one of the guys got the Genki English download pack working on the machine! Wow, that was impressive.
The thing is that once you have the Genki English software in the classroom it changes everything. Instead of the teachers having to worry about pronunciation or about what English to teach, they simply leave all the English up to the computer and concentrate on their real job which is motivating the kids. Even the teachers who had never touched a computer before loved it, their eyes just lit up.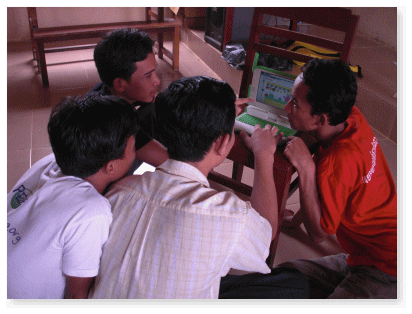 Plus as they have enough enough machines for each child in a class they can use the computer games to race against each other. With tools like this these kids could well end up leap frogging western schools!
If you are using the XOs in your school or project then let me know and I'll see if we can help with the software side of things.