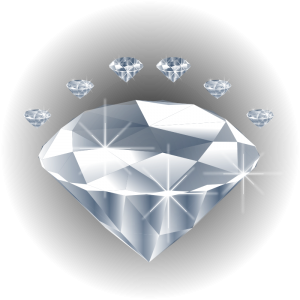 One of the biggest surprises in the workshop last week was that most of the teachers didn't know how diamonds were made.
We were talking about shy students and I was showing them how we train the whole class to work as a team, working together to support every child, with super motivation.
(Hence the new "You're on my team." quote in the posters last week)
But one of the teachers said "I don't like putting pressure on the students.  What if they cry?"
And I think that is the problem. 🙂
How did they get there?
Diamonds didn't get formed by sitting there comfortably going unchallenged.
Diamonds started out as boring chunks of basically coal.
But then they got crushed, squashed with millions of tons of rock and pressure.
It's that pressure that forms the brilliant structure of the diamond.
It's just the same with humans too.
Sometimes we cry,  but crying is never a bad thing.
But just leave a student sitting there, skipping them over because "oh they're shy" …..
Then they will  feel worthless.
Because the teacher thinks they can't do it either.
That's not what we do here.
Our job is to boost the kids up.
To gently, safely, apply the pressure to make them rise.
Not millions of tons, but always enough to move them up a level when we know they can.
And they always can. 🙂
Safe & Sound
The key, of course, is to offer them the cradle.
The super supportive atmosphere that allows them to take risks and not care if they fail.
To know that *all* their classmates are on their side, on their team.
That *everyone* is rooting for them to win.
In the presentation lessons (e.g. Superhero or Treasure Adventure)  we train the kids to always be listening.
If you're not talking, you're listening.
Attentively and supportively.
All the time.
To everyone.
So the "shy" child tries.
The other kids listen.
It's quiet.
The teacher, down on the child's eye level,  but still making eye contact with everyone else, asks them to try again.
And  they do, still softly.
You ask the class if they think the student can do it.
The other students say "of course!  You're on our team!"
The student tries one more time.
Slowly, but surely,  miraculously they do it, and smile.
And then everyone  smiles.
Of course it takes time to get here, and you need all the discipline in place beforehand.

But this is how you make diamonds.
Properly placed pressure and never just skipping over.
Let's not make lumps of coal.
Let's help make our children become what they really are,  a sky full of shining, brilliant diamonds.
Be genki,
Richard