I originally did the  Genki English Gingerbread Man as a really simple Christmas play.
But … on Sunday I tried out an even quicker way of doing it, a no-prep, 20 minute "from zero to play" version!
And thanks to Nigel for uploading the video of how the song fits into it all with the gestures!
And this what I did to prepare:
1. Read through the picture book and mini lesson on the vol. 12
2. Put the kids in a circle.
3. One person comes to the middle to sing the Gingerbread Man lines.
4. Everyone else becomes the other characters.
5. Sing the chorus with gestures.
6. At the end they all try and eat the Gingerbread Man!
As you can see it worked out really well, especially the ending, and the kids just loved it!
Of course if you have more time, or want to put on a big production for the parents, then doing a full on play using the song/picture book is really cool.  And to make it even cooler… how about these brand new masks that Gaz has just cooked up?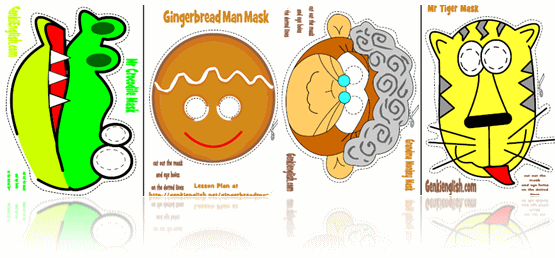 What do you think?
Comments on the blog (or Facebook!) would be much appreciated!