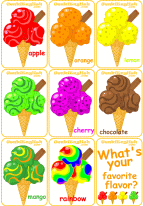 Mido Farid has just sent in this great Summer game!
1. Do your normal lesson.
2. Draw two huge ice cream cones on the board.  One for the kids.  One for the teacher.
3. Put all the picture cards from today's theme on the board.
4. Now circle several of the picture cards.
5. Ask today's question and point to a card.
6. The kids have to answer with whatever is on the card. If they do, you erase part of your ice cream and add it to theirs.
7. But…. if the card has a circle they must remain totally silent!  If they speak you erase part of their ice cream and add it to yours!
8. Keep going faster and faster!
9. You are the winner if you eat the other team's whole ice cream!
Mido's kids are crazy about this game!  What about yours?
Oh and don't forget the Genki English Ice Cream song!