================================
UPDATE:  GenkiEnglishOnline has now been replaced with this much easier to use system!
https://genkienglish.net/teaching/im-really-excited-about-this
========================================
OK, this is big!  I've just set up www.GenkiEnglishOnline.com,  a new Genki English Homework site.  It has all the games, and all the songs.
Whilst it's still in the beginning stages and whilst I'm still sorting out the technical, payment and pedagogical sides of things I'm going to have it up on a free trial basis.
VIP Members can click here to get the URL to show their students.
But please don't share it with anyone else or put it online on any blogs or websites. It's just for your students to use as homework!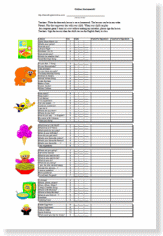 There is also a homework sheet, you'll write in the date each time you set a lesson and both the teacher and parent will sign it.
(right click here for the editable .xls spreadsheet or the pdf version)
The idea is the students will listen to the current song each day, and play the game for the current theme until they can do it three times without making a mistake (that's when parents can sign it)  You then check they can use the English in class and you sign it.
Of course it's not for everyone yet, but what do you think about this glimpse of the future?
Just in case you're not a VIP member yet, have a look at this video to see what your students could be getting!
UPDATE:  Yes you can change the "Your School" part to be your school name!
UPDATE 2:  No, students can't download the files.
UPDATE 3:  Yes the student pack CDs (and USBs) are still available.
UPDATE 4: There's an extra special surprise on the Halloween disc!
UPDATE 5:  Yes it does (should!) work on the Nintendo Wii but not the iPad or iPhone.
UPDATE 6: How much will it cost?  We're discussing this below!  Be sure to add your thoughts!
Any more questions? I'd love to hear what you think!