If you're looking for a last minute Halloween party idea, Miki showed me this really cool idea at the ACET meeting last week.
You need just one ball of black wool, and it's great for a party!
1.  Put everyone in a circle.
2.  Wrap one end of the wool around your finger.
3. Throw the ball of wool to one other person on the other side of the circle.  (Remember it's still wrapped around your finger too!)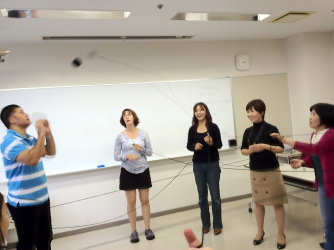 4. They catch the ball and tell everyone their name with "My name is …" or whatever self intro you want to use.
5.  There is now a line of wool between you.
5. They wrap the wool around their finger too.
6.  Then repeat from step 3.
7. Eventually you end up with a totally amazing cobweb in front of you!
(It looks so much better in real life – really, really impressive!)
Anyway, do give it a try if you have a party!
Be genki,
Richard
P.S.  Acet have their next meeting Nov 18th, I think they'll be doing Christmas ideas then, so if you're in Kyushu do pop along as see what they are up to!
P.P.S.  Just in case you're in need of more, all my Halloween ideas are here!