This month has been a record month for new  VIP members sign ups – thank you very much!
Over on the VIP Forum there was a request for a video to go with the new Stationery Song.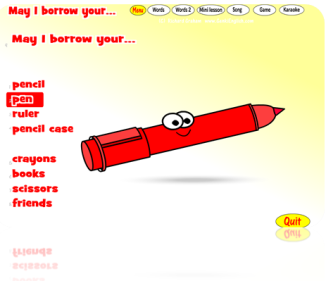 Always wanting to please, here you go.
And the flashcards, mini cards etc. are on the main stationery page.
More free songs for members!
This song is available to VIP members ( i.e. those of you who have the full Teacher's Set) as a new "Beta Test."
This means it hasn't yet been tested to the super duper high standards of the regular lessons, but it should be pretty good and with everyone's feedback hopefully it will make the grade and become a full lesson soon.
Once that happens it will become a paid for download, but whilst it's in test mode you  can download and enjoy it at no extra cost.
Which is a pretty cool I'm sure you'll agree, and is just another of the little extras I try to provide for supporting Genki English by investing in the Teacher's Set.
We also have a few more "beta test" exclusive songs for you:
"Whose is it?  It's mine/yours/his/hers etc."
And there might be a few more coming soon. 🙂
Plus don't forget the VIP Exclusive Members Forum
Teaching can be a lonely business, so whilst we're welcoming you, be sure to check out the VIP Exclusive Forum.
Here you can make requests, ask questions, chat with me (yes, it's really me not a robot or outsourcer! 🙂 ) or other Genki English teachers and check out all the latest new materials.
It's a whole new community to support your teaching, especially on the bad days, but also on the great days.  And we're all really friendly! 🙂
Roger just put up a cool game for clothes, there's a whole forum of skits & plays and, fingers crossed, next week I'll be debuting the brand new Phonics Extra Reading course over there.
All pretty exciting.
You will need to set up an account over on the  Forum , but it's really easy, just hit the "register" button on the top right of the page and select what username you'd like everyone to see you as: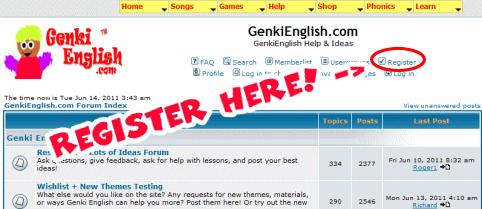 Do pop by even just to say hello.
It is the best way to get the most out of your investment in Genki English and I think you're going to love it!
Be genki,
Richard
P.S.  If you're not yet a VIP member of Genki English yet, (you know you want to be! 🙂 ) at the moment lifetime membership is included with the Teacher's Set.  At some point I am going to have to change that offer, so grab it whilst it's hot!